Movie Review: Disney-Pixar's 'Brave' Misses the Target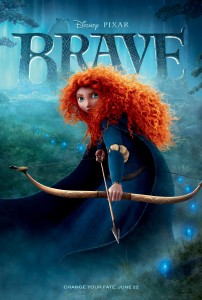 There is no doubt that Pixar has set the bar high. There was a time where it seemed like they couldn't lose, releasing film after film that would become an instant classic. From the first Toy Story movie until Toy Story 3, every movie was received with almost no complaints from critics, with the exception of the Cars franchise. Although you can't always expect to hit a bullseye time after time, that's what we have come to expect – because we have seen it happen. Unfortunately, Brave misses the mark by a long shot, and continues a streak of just okay movies from Disney-Pixar.
Merida (Kelly Macdonald) is a princess who would rather shoot a bow and arrow than carry a scepter. Her parents King Fergus (Billy Connolly) and Queen Elinor (Emma Thompson) want her to follow tradition and seek a suitor from one of the other three clans in Scotland. But Merida wants to find true love, and doesn't want to be forced into a marriage that isn't on her terms. After an argument with her mother she runs off into the forest, only to stumble upon a witch (Julie Walters) with an affinity for woodworking – and bears. After pleading her case and agreeing to purchase every piece in her shop, the witch finally agrees to cast her a spell that would change her destiny. But Merida gets more than she bargained for when the spell does just what it promised – by turning the queen into a bear.
After seeing the previews for Brave, and drooling over the jaw-dropping animation, I can't tell you how exited I was for Disney-Pixar's latest venture. I am a huge fan of their work, and I enjoyed even Cars and Cars 2 – the films that were least popular amongst critics. But I am saddened to say that Brave was a disappointment. It's not that the film was terrible, or that it is a waste of time to even go see. If I said that, I would be lying. But it certainly isn't an instant classic like it's predecessors, and is the film that I am probably least likely to ever watch again.
The animation in Brave is phenomenal. With Disney-Pixar's films, each one looks better than the last. Toy Story was truly groundbreaking when it was released in 1995, and is responsible for the slue of computer animated films that have been released for almost 17 years now. Brave is no exception to the rule, as its takes us on an animated journey to Scotland that is simply breathtaking. But like it is with most films, looks aren't everything. Without substance, it's hard to expect audiences to be entertained for an hour and forty minutes. And at times it is truly challenging with this one.
The story is mediocre by Pixar standards, and although it might fly with other companies – it doesn't with this one. The problem is that it lacks that certain spark of originality that caused us to fall in love with a room full of inanimate objects, or care for the well being of a robot. The myriad of emotions that we went through in UP were nowhere to be found in this film, and the story just seemed too predictable. The first twenty minutes or so are right on track with what you see in the previews, and are every bit as entertaining. But nowhere in the trailers did I ever see that the entire movie was about the protagonist's mother being turned into a bear, and her struggle to make her human again. It threw me for a loop, and not in a good way. And from the moment that the transformation takes place, it's completely paint by numbers up until the last frame.
Merida, the hero of the film, is a great character and is extremely likable. When she isn't being forced to learn how to be a lady by the queen, she sets off into the forest with her trusty bow and arrow and does some really fun stuff. She is probably one of the coolest characters we have seen so far from Disney-Pixar, but the problem is that we don't get to see her do hardly anything. That is one of the most depressing parts of the movie. There is so much potential with her character, but the boring story never let's her unlock any of it. With a better plot and more interesting challenge, the movie could have been great. I would hate for this to be the end of such a great character, but I am not sure that we will see her again.
I think that the filmmakers did a lot of things right with Brave. The problem is that the positive aspects were greatly overshadowed by the lack of creativity and originality that we have come to expect from Disney-Pixar. Instead of creating an interesting new world, they decided to take us to a forest which could have been anywhere – and tell us a story that seems too familiar. Aside from the brilliant visuals and a few cute laughs, the movie misses most of the marks. Looks like Disney-Pixar could use a bit more target practice.
Brave is a C