Movie Review: 'Delivery Man' Starring Vince Vaughn, Chris Pratt, and Cobie Smulders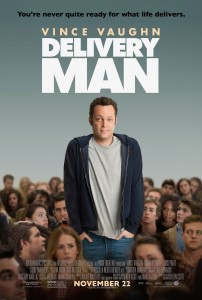 Tired of remakes, rehashes, and sequels? Well, you'll need to look elsewhere if you want original content. Delivery Man is a remake of a 2011 French-Canadian film by the name of Starbuck. Writer/Director Ken Scott has teamed up with Vince Vaughn to bring his story to American audiences. It's also noteworthy that the film is also being remade for Bollywood and a French version of the film titled Fonzy was released this year as well.  If nothing else, it has studio appeal.
David Wozniak (Vince Vaughn) is a loveable screwup. Sure, he puts his family in danger with his shady debts, and is quite possibly the world's worst delivery driver, but he makes up for it with his shining charm. David's case of arrested development comes screeching to a halt when the fertility clinic he donated sperm to years ago in exchange for cash, informs him that due to a mix up, he is the father of 533 children. In addition, these children are now trying to sue for the legal identity of their father. The shocking revelation doesn't send David into a spiral of self-destruction, instead it gives him the motivation to turn his life around, and prove to his girlfriend he can be a father to their future child. David slowly starts to take an active role in his children's lives, and his actions cause trouble for his eventual court case. David's eventual struggle between keeping his identity and allowing his children to know who he is, is the focal point of the film.
Delivery Man tries very hard to be a heartwarming comedy, but unfortunately it misses the mark on both accounts. The film is emotionally manipulative, and never really propels its characters far enough along to garner any real sense of emotion. The emotionally cheap moments ruin what is really a cute story at first glance. If paired with stronger comedic moments, the film could have possibly reached the quality of the original.  The original's comedy gave the fluff a bit more substance and carried it to a satisfying conclusion.
Vaughn gives it his all, and is easily one of his best roles to date, but eventually falls flat due to a weak script. Rising above the script is versatile Chris Pratt who continues to be a bright spot in every film he appears in. Pratt should be starring in films like this before long, and hopefully lifting movies with his solid comedic timing.
Delivery Man isn't a terrible movie, it just isn't anything to write home about. Most people would be better served by watching the original. Sure, this one is sweet, but it's sickly sweet.  With big releases coming out all around it, this middling effort is sure to be lost in the shuffle.
Grade: C