Movie Review: COCAINE BEAR Starring Keri Russell, O'Shea Jackson Jr., Christian Convery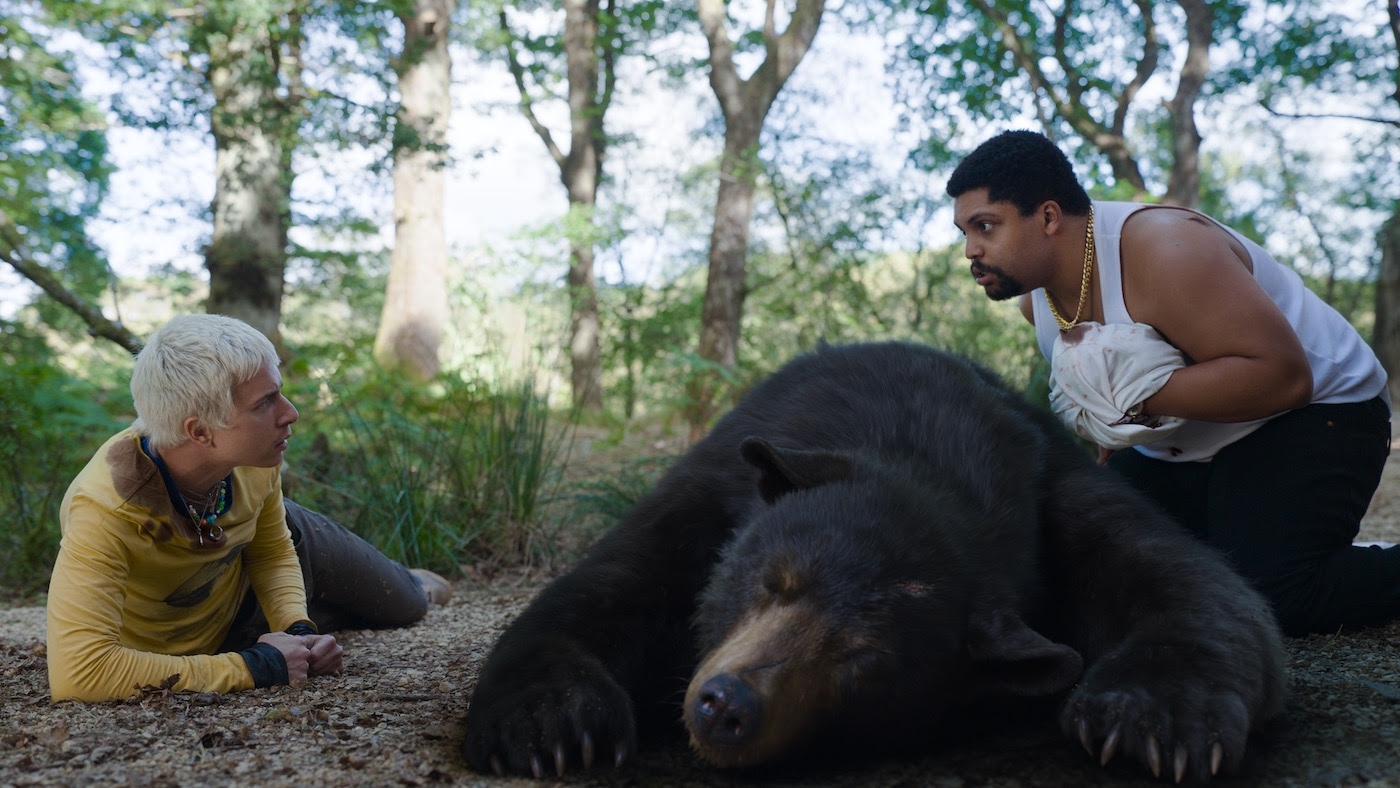 You ever see a majestic bear and think to yourself, "I wonder what would happen if we gave a bear a massive amount of cocaine?"
Well, thanks to a gentleman named Andrew C Thornton II, you don't have to wonder. This actually happened in 1985, and as it turns out, the bear died. The unfortunate black bear ate about 75 pounds of cocaine and was taxidermied and is now on display.
NOTE: It should go without saying, but to cover our butts, we'll say it: do NOT give bears cocaine.
This ending was unsatisfactory to writer Jimmy Warden, who's stated in interviews that he wanted to give the bear a bit of, in his words, "a redemption story." And so we've been given Cocaine Bear, an action-comedy directed by Elizabeth Banks with a solid cast featuring Keri Russell, O'Shea Jackson, Alden Ehrenreich, Isiah Whitlock Jr., and Ray Liotta in his final role.
The story picks up with Thornton (Matthew Rhys) aboard a plane as he's dropping duffle bags filled with cocaine. Unfortunately, his plan to airdrop the narcotics, then parachute and retrieve them, goes awry and the bags land near Blood Mountain in Chattahoochee National Forest. Much to the detriment of literally everyone in the movie, a black bear happens upon some of the cocaine.
This sets off a chain of events that interweaves various plot lines involving Sari (Russell), a nurse searching for her daughter Dee Dee (Brooklynn Prince), who skipped school with her friend Henry (Christian Convery) to paint the waterfall in the park; Daveed (Jackson), who works for drug kingpin Syd (Liotta) and searches for the shipment with Syd's alcoholic son Eddie (Ehrenreich); Bob (Whitlock), a detective working with Officer Reba (Ayoola Smart) to track down Syd's operation; and Liz (Margo Martindale), a local forest ranger crushing on an animal rights activist (Jesse Tyler Ferguson) who helps Sari search for her daughter.
That might sound like a lot to remember, but honestly, it's all just a bunch of thin plotlines designed to provide fodder for the true star of the film, the eponymous Cocaine Bear. Let's be realistic; nobody is expecting a masterful, realistic story or top-notch performances. The people who are going to see Cocaine Bear are doing so to see a bear go on a drug-fueled murder rampage, and to its credit, the film fully embraces the absurdity of it all. It's grisly (no pun intended) and earns its R rating pretty quickly starting with the evisceration of a hiker (Hannah Hoekstra, whom gamers might recognize from Horizon Zero Dawn) and culminating in a final, gory death under the waterfall Dee Dee and Henry were searching for. If you have a weak stomach for gore, you'll probably want to sit this one out.
The action is certainly there, but I found the comedy aspect to be extremely hit-or-miss. I laughed audibly during some portions of it, but a lot of the humor missed the mark, at least to me. My buddy Randy seemed to find the movie pretty enjoyable overall, so perhaps I just have a terrible sense of humor, but apart from a few notable scenes (namely the very beginning and one particular scene involving Eddie getting a little too close to the bear), I found myself audibly reacting more to the violence than to the humor. Then again, a lot of the humor is violence-related, so perhaps that's just a niche I'm not a fan of.
It's not easy to take a silly concept and stretch its relevance into a feature-length film, and ultimately, I felt the film dragging toward the end. Once the novelty wore off, it was pretty easy to see how the rest of the film would play out and which people were ultimately going to survive. The film had a relatively low budget, but the marketing's attracted enough attention that it's entirely possible that Cocaine Bear could prove a hit financially and spawn a franchise (believe it or not, Warden has indicated he has ideas for future films). I find it equally plausible, though, that the movie will become this decade's Snakes on a Plane; a film everyone heard and talked about before its release, but largely ignored after it came out. It's an interesting concept at least, and I found myself reasonably entertained, but I can't say I'll be in a rush to watch it again.
C+