Movie Review by Matty: Final Destination 5 in 3D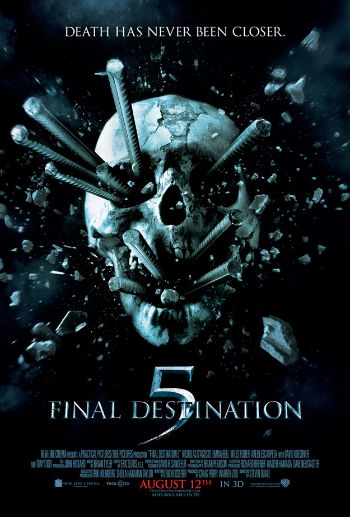 If you were never a fan of the Final Destination franchise (or maybe just liked the first one or two) then you are in luck. Compared to the other ones, Final Destination 5 brings a whole new meaning to the word: gruesome. Watching it in 3D definitely helped the severeness and intensity of all of the deaths that the characters would soon be led to.
The movie starts off with a sweet 3D opening credits that seemed to draw you in and get you ready for the intense action. As you already know if you've seen the movies, it usually starts off with a build in story of what they are doing and why they are going somewhere. Followed by some "GREAT" acting, the movie then steps into the realm of death, as the main character Sam Lawton (Nicholas D'Agosto) foresees them dying on a bridge, which might be the best part of the film! The 3D F/X in this scene are nothing short of guts and gore; ranging from total body obliteration to straight up impaling. Also, ALL of the deaths have such big suspense around them, and what's going to happen, that you are just hoping that it comes when you are ready and you don't JUMP outta your seat.
The story is the same as the rest with the characters (Candice, Isaac, Olivia, Nathan, Dennis, Peter and Molly) trying to figure out what is going on and why this is happening, while an Agent Block (Courtney B. Vance) tries to find the main suspect. It gets a little crazy when, eventually, Bludworth (Tony Todd – Candyman) tells them they can replace their death with another person if they kill someone else.
One-by-one they all start to die and the deaths seem to get more and more sick as the movie goes on. Judging by the "Ooohhhs" and "Ooooooos" of the audience, the deaths in Final Destination 5 seemed to outdo the other movies by far. Remember I was never a huge fan of these movies, so when I was watching it, I TOO joined in with the audience and loved the killings as well.
As with the past films, that is pretty much what you go to see it for: the death scenes. The movie seems to try and get you attached to the main characters and feel what they are going through, however it doesn't really work because of how bad the acting is (aside from Nicholas A'Gosto – who seemed to do a decent job). Eventually, one of the characters goes nuts and wants to live, of course, and as you think it's all going to be okay and the movie will end.. something else happens. The movie does wrap it up real well and by reading the audience, it seemed they enjoyed the ending as much as I did. (Hint… Paris)
If you have liked these movies, or want to see a good murdering 3D movie, buy a ticket to see FD5 in 3D. It brings the franchise back to when it first started. However if you never were a fan and don't like being scared and held in suspense for blood and gore, then maybe this isn't the movie for you. Overall I think this movie is a good one to see, IF you've been waiting for a good 3D film. It depends on your taste, but I'll give it a B- to C+ for it's great killings and F/X, but the rest of the movie is just ridiculous. (Stay tuned for about a minute after the credits for a fun, deathly montage).
Is it worth seeing? – Enh. Only if you've been a FD follower.
Did you see Final Destination 5???
How did you like this review????
Comment Below!!!!!!!!!!!!!!!!