Movie Review: 'The Book Thief' Starring Sophie Nélisse, Geoffrey Rush, Emily Watson, Ben Schnetzer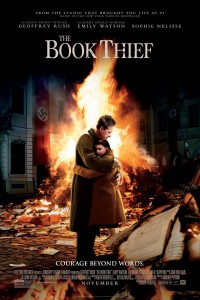 Markuz Zusak, an Australia native and author of award-winning books such as I Am the Messenger and The Book Thief, got to see one of his stories come to life on screen for the first time a couple weeks ago.
The Book Thief is a story of the orphaned Liesel Memminger (Sophie Nélisse) who grows up in Nazi Germany after being adopted by the animated Rosa (Emily Watson) and fatherly Hans Hubermann (Geoffrey Rush). Liesel's younger years are narrated eloquently by a personified version of Death Himself (Roger Allam). Throughout the years, Liesel learns about the unfairness of life and the measures she is willing to take in order to rob life back.
Many fans of the book may have been skeptical upon hearing about a film adaptation, as the arguably best part of the book is the poignant yet beautiful diction, but their fears can be put to rest. Directed by Emmy-award winner Brian Percival, the elements that made the written story so captivating were not left out of the on-screen edition. Through the friendships Liesel makes and the secrets she must keep, the viewers get an outstanding adaptation that leaves them with a feeling of hope. The most lovable character in Liesel's story is easily the boy with lemon colored hair, Rudy Steiner.
From the moment Liesel first steps onto Himmel (translates to "Heaven" ironically enough) Street, Rudy takes an interest in this orphan girl and the two become best friends- the kind who tell each other their dreams and secrets. Rudy provides some lightheartedness in The Book Thief with his amusing outlook on life- a contrast to Liesel who must live with haunting questions and dangerous secrets of Jews in basements and thievery of books that if discovered could split apart her family.
Through the development of the story, the viewers find themselves falling in love with the characters and rooting for their lives, because any story set in Nazi Germany provides a sense of anxiety, especially one narrated so cleverly by Death.