Movie Review: 'Bad Words' Starring Jason Bateman, Rohan Chand, Kathryn Hahn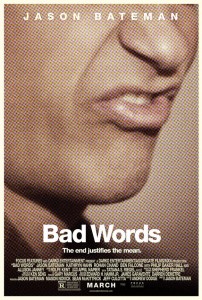 If you're easily offended by off-color jokes and foul language, Bad Words is not for you. But, if you like black comedy with an edge, Bad Words is a winner.
Jason Bateman's directorial debut is cynical, shrewd, and remarkably sweet. If the reaction of the audience is any indication, Bateman could have struck gold in his first attempt behind the camera.
Batman plays 40-year old, Guy Trilby. Trilby comes up with the idea to crash the Golden Quill Spelling Bee, which is intended for 10-year old students. While spelling bee officials and parents of contests try, they just can't find a way to get Trilby out of the competition. I, myself, was amazed at some of the words that were picked in the spelling bee. I had never even heard of some of the words before.
Bateman's best move as the director, was surrounding himself with likeable characters, such as Kathryn Hahn, who plays reporter Jenny Widgeon. Hahn eventually reveals some likeable traits in Bateman's character, who I found hard to root for in the film. Child prodigy Chaitanya Chopra, playd by Rohan Chand,is a breath of fresh air in the often vulgar movie. Make no mistake about it, Bateman doesn't hold back with the offensive humor; I really only had an issue with one scene involving a 10-year old girl and her time of the month. I kind of felt disgusted watching that scene.
The best part of the film revolves around Trilby's friendship with his spelling competitor Chopra. The two not only bring the laughs during the spelling competition, but they have one hell of a night out on the town involving booze, hookers, and shoplifting. Chopra is the most likeable character in the film. I found myself rooting for him to out spell and outwit Trilby in more than one scene.
The only letdown of the film occurs when we find out why Trilby is in the spelling bee. It was pretty easy to figure out, but I had hoped for a better reason, like, he is just an asshole.
For a first time director, Bateman shows promise, as he got top-notch performances from his cast, and manages to keep the film on track with all the debauchery going on. For a few fleeting moments, I thought the script was heading in the wrong direction, but Bateman's character was able to pull it back together with some more of his raunchy antics.
Bad Words gets a B+.