Movie Review: 'American Reunion' Starring Jason Biggs, Alyson Hannigan, Seann William Scott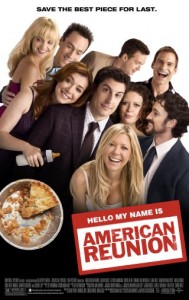 It's hard to believe that almost 13 years have passed since the first American Pie movie was released in theaters. The next two films were on a roll, with American Pie 2 and American Wedding all being released within two years of each other. But it's been nearly a decade since the last film featuring the original cast. But with so much time passing, we've had a chance to forget what we have missed, and American Reunion is just in time for the ten year.
Jim (Jason Biggs) has grown up a lot since his viral video and pie ordeals. He and band-girl Michelle (Alyson Hannigan) are married now, with a son of their own to teach about the birds and the bees as Jim's dad (Eugene Levy) once did. Kevin (Thomas Ian Nicholas) is also happily married, finding his excitement these days in watching The Bachelor and cooking for his wife. Oz (Chris Klein) is now a television host of his own sports show and has fame, money, a supermodel girlfriend – everything but Heather (Mena Suvari), his high school sweetheart. Finch (Eddie Kaye Thomas) returns to the group telling stories of traveling the world and great adventures, finding everything except for "Le Grand Amour." And Stiffler (Seann William Scott), well, he is still the same old Stiffler – living at home with his mom and chasing after high school girls.
The nice thing about the 'American Pie' movies is that they don't try to be anything other than what they are. The first film was about a group of high school guys trying to get laid, while dealing with adolescence and stumbling along the way. Although the whole group is grown up now, the formula isn't much different. But there is a certain nostalgia factor there that simply works, and it is fun to see everyone again. It truly was like going to a high school reunion. You feel like you grew up with the characters, and it's fun to see what they look like and are up to now.
I will have to say that Seann William Scott pretty much steals the show in any scene he is in. I don't know if it's just because he has had one of the most successful careers since the original movie, but the guy is just genuinely funny in the role. After all these years, he still plays the character that made him famous to a tee, and is one of the best parts of the film. And you can't forget Jim's Dad – played by Eugene Levy and the only actor to appear in every 'American Pie' movie if you include the spin-offs. His role is even more prominent in this one than ever, and trying not to laugh while Jim and Michelle bring him to Stiffler's party would be quite a challenge.
Much of the humor in the film comes from recalling memories of the previous movies, so it's probably best to have a refresher course before going into this one. Not that it isn't funny enough to stand on it's own, but you will definitely be missing out on some of the inside jokes if you don't. It's nice to see that all of the actors are just as charismatic and likable as they were in the first film. Over the past decade they have been working on their separate careers and growing as actors. But they all came back together for this fourth installment and put on the same charm that made them so likable in the first place. Although I had my doubts, this is one reunion that I'm quite happy I attended.
B