'Fiddler on the Roof' Opens at the Peabody Opera House – Playing St. Louis From April 3 – 8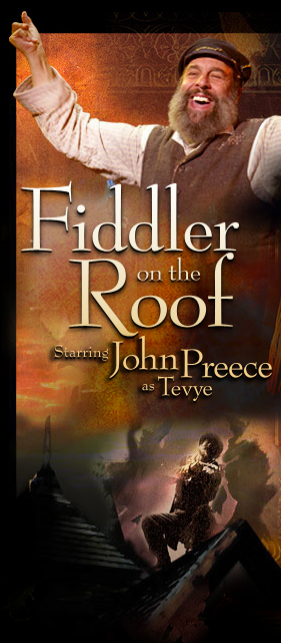 The gilded, vaulting spaces of Peabody Opera House presented a strong contrast to the world that unfolded before us last night. Surrounded by marble and velvet, thousands sat transfixed by this story of a vastly different time and place.
Here is a show whose central characters are dirt-poor, members of an oppressed people group, and threatened at every turn with the unraveling of their way of life. Add to this dreary premise the fact that the show is set in middle-of-nowhere-Russia and is full of peculiar, foreign words, and even more foreign religious customs. It relies on very modest production techniques, and it runs for a demanding three hours (with one intermission).
How in the world is this show playing to the biggest audiences in the finest performance spaces in our country? More astonishingly yet, why is it still doing so after nearly sixty years?
The story centers around Tevye, the village milkman, a member of a tight-knit Jewish community. He faces many difficult choices as outside pressures threaten his traditional way of life in the village. In Tsarist Russia in 1905 there are rumblings of revolution on the horizon. It is a time of mass political and social unrest; many workers unions and disgruntled ethnic groups stage strikes and riots. Although the revolutionaries will suffer casualties in the tens of thousands, and the Tsar will remain in power, they will succeed in scattering the seeds of Soviet thought. By the end of the play the Tsar issues an edict forcing troublemakers into exile – including all Jews.
At the same time Tevye's own strong-willed daughters challenge the customs of his family. The familiar difficulties of parenthood, young love, and family life are brought into heightened relief against this cultural backdrop! And in Tevye himself (masterfully performed by JOHN PREECE) we see one man searching for his identity in relation to his imperfect community, to his harsh and ever changing environment, and to his God. For Tevye, as for us, the good and the bad in life come mixed together…
Tevye's wife Golde (GERRI WEAGRAFF) and the rest of the cast give a solid, if not spectacular, performance. Lazar Wolf the butcher (DAVID B. SPRINGSTEAD, SR.), stands out as especially convincing. The cast does have impeccable comic timing together, which is essential in a show about a tight-knit community. You will recognize people you know, and maybe even parts of yourself, in this community, even in such a removed setting. See if you don't laugh – a whole whopping lot.
Last night's production was truly gripping – this is music and story that grabs you and doesn't let go! A vivacious orchestra (conducted by DAVID ANDREW ROGERS) pulls off the full original score with great heart, from the frenzied, foot-stamping tavern dances to the pleasingly understated ballads. The instrumental soloists especially steal the show; one clarinet player (ALEX BUDMAN) in the part of traditional Klezmer wedding musician, stands on stage at the beginning of the bottle dance. His deft performance perfectly recalls the haunting wail of synagogue chants and prayers that have long influenced Eastern European Jewish music.
The dancers' enjoyment is infectious in number after impressive number of Jewish and Russian-folk-infused dances. The bottle-dance was well-executed and supported by the orchestra.
And the fiddler (STEPHEN CHARLES TURNER) is nothing short of spectacular, with violinist Tallie Brunfelt piercing the night with ribbons of sound at once so fiercely celebratory and full of longing, you know you're alive as you listen!
The play takes its name from a painting by Chagall (a Jewish and Russian-French painter) who often used the fiddler as a symbol of balance or survival in the face of seismic change.
Fiddler on the Roof is one of the most financially successful musicals ever produced. Spawning dozens of revivals starring notables from all sectors of the entertainment industry, and even finding its way into schools and community groups in other languages in other countries, the show has continued to set records and enjoy international popularity since its debut in 1964.
You'll have to decide for yourself, of course, just what it is about Fiddler that has resonated so deeply, and for so long, with audiences around the world.
—
Tickets for Fiddler on the Roof may be purchased at the Ford Box Office at Scottrade Center, all Ticketmaster Ticket Centers, by phone at 800-745-3000, or online at ticketmaster.com. Tickets for this event are also available through subscription series packages. Groups of 10 or more can save on each ticket. Call 314-622-5454 for more details. Package 2 or more of our upcoming Broadway titles and save! Visit the Peabody Opera House website to learn more about the Broadway and More series.
Fiddler on the Roof performances are April 3 at 8 p.m., April 4 at 8 p.m., April 5 at 8 p.m., April 6 at 8 p.m., April 7 at 2 p.m. and 8 p.m., and April 8 at 2 p.m.