'American Reunion' Movie Review – Starring Jason Biggs, Alyson Hannigan, Chris Klein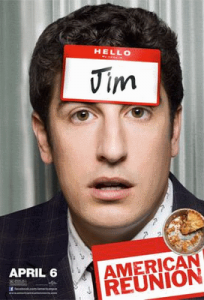 The American Pie franchise returns for its fourth chapter – American Reunion. (I know there have been direct-to-DVD spin offs but I don't think they're considered part of the official American Pie canon. And, yes, a little piece of me died when I typed the phrase "American Pie canon".) Unlike their last theatrical outing, this time all the major players have returned. Jim & Michelle (Jason Biggs and Alyson Hannigan) have reached the marital doldrums after the birth of their first child. Oz (Chris Klein) and Kevin (Thomas Ian Nicholas) are pining for their high school crushes Heather (Mena Suvari) and Vicky (Tara Reid). And Finch (Eddie Kaye Thomas) and Stifler (Seann William Scott) are still…well, Finch and Stifler.
The plot, like all the films in the series, is little more than a series of devices designed to humiliate its characters sexually. And, like previous installments, it has wildly varying degrees of success. When compared to today's crop of raunchy sex comedies (Superbad, The Hangover, Knocked Up) American Pie looks practically ancient. Predating Facebook, texting and flash mobs, it's the relic of a bygone era. And the filmmakers have made no attempt whatsoever to update the tone of the film. Ironically, it's the film's greatest asset. Reunion has an unabashed shamelessness that's positively relentless. Its complete and utter lack of remorse eventually starts to become almost endearing. The film has no illusions as to the reason for its existence. Instead of running from its low-brow heritage, the filmmakers run towards it, embrace it lovingly and then slam its "junk" in the car door.
I have admittedly given little thought to the American Pie films since seeing them originally. I was almost 30 when the first film came out, so they certainly didn't play the role in my life the way they almost certainly have for others. That being said, I was surprised at how much nostalgia I had for the characters. It was nice to see them again and, like most reunions, it was nice to see them go as well. I'm not saying I'd like to see a film from them every two years but if they make American Midlife Crisis, you know what? I'm in.
On a scale of 1 to 10, with 10 being The Big Chill and 1 being Porky's Revenge, American Reunion gets a 7.