Movie Review: 30 Minutes or Less w/ Jesse Eisenberg and Danny McBride
W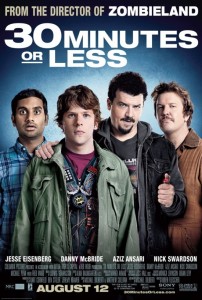 hat could be more hilarious than a down-on-his-luck pizza boy being threatened with death unless he robs a bank? I honestly don't know, but it was pretty damn funny.
30 Minutes Or Less tells the story of Nick (Jesse Eisenberg) as the aforementioned pizza boy and his friend Chet (Aziz Ansari) as they try to rob a bank before the bomb Nick is wearing explodes. Comedy ensues as the masterminds of this plan, Dwayne (Danny McBride) and Travis (Nick Swardson) encounter their own obstacles to overcome.
With such a "wacky" story it would be assumed that 30 Minutes Or Less would follow its recent kin of high concept comedies and play to the lowest common denominator…thankfully this couldn't be further from the truth. Nowhere is this more evident than in the opening scene where Nick fails to deliver a pizza in "30 minutes or less". Nick pulls a fast one on the kids he is delivering too and instead of beating the audience over the head with this concept, we are left to deduce what he is doing as he is doing it.
Despite the recent controversy over the similar true story, 30 Minutes Or Less really has a lot going for it. Aside from the respect it treats its viewers with, the four leads play their roles pitch-perfectly and are equally effective in both comedic and dramatic scenes.
Perhaps the strongest element in this film is the actual plot. The turn of events that unfold make the viewer almost forget that it's a comedy. It works extremely well on both levels, a trait many modern comedies only wish they could claim.
So whether you're looking for a comedy with substance or just a casual night of laughter, check out this gem. At a lean 83 minutes, even if you don't like it, at least it won't have taken much of your time.
–Worth Your Money­-
Not Worth Your Money
Worth Somebody Else's Money