Mickey Rourke Starring in Tarsem Singh's "War of the Gods"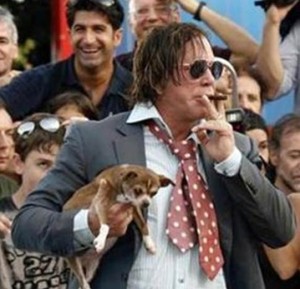 Mickey Rourke is joining Freida Pinto and Henry Cavill in the Tarsem Singh directed film, War of the Gods. Rourke will be playing the villain of the film, King Hyperion, one of the twelve Titans in Greek Mythology. Cavill plays the hero Theseus who leads the Olympian gods into battle with the evil Titans to save all of mankind.
The film is set to start shooting in April. The film is being produced by Relativity Media's Ryan Kavanaugh and Atmosphere Entertainment's Mark Canton. Universal will distribute the film produced by Gianni Nunnari of Hollywood Gang Productions. Canton and Nannari previously worked on the hit film 300.
I'm all for all these Greek mythology movies going on right now. It is where most of the great stories you hear today started. So, if we are going to adapt everything, why not start at the beginning?
I really love Tarsem Singh's visual flair. I think The Fall might have been one of the beautifully shot films I have ever seen. The stories he usually does aren't awful, but they don't live up to the visual tale he is telling.  I'm hoping this time we can get the best of both worlds.