Michael Jackson's This Is It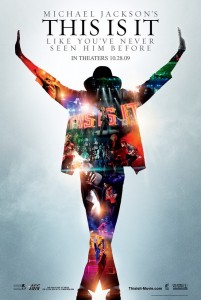 I'll be the first to admit I was a bit skeptical about this film.  I'm a lifelong Michael Jackson fan.  I listened to my tape of  'Bad' so much when I was a kid I practically wore it out.  Although, I wasn't a diehard fan, I always had an appreciation for his music. My respect for him only grew as I got my job at the St. Louis landmark restaurant Blueberry Hill.  MJ's music is constantly on rotation with many other great (and some not so great) music. So, when he died and I heard they would be making a film out of his final rehersal footage I called it as I saw it. I was worried about a cash grab to profit quickly on the death of the King of Pop.
Cash grab it may be, but the film succeeds on so many levels that you quickly forget about the money that this will bring in. You have to be the most boring person in the world not to tap your feet to each and every hit that is lined up on screen for you.  The beginning is touching, as we see the dancers selected for what was supposed to be the final tour for Michael Jackson. As a performer you could only guess at what kind of elation they would be feeling, only to have it shattered as their idol and boss left the world.
"Wanna Be Startin' Somethin'" starts us out with a bang. The song which is the longest songs on Thriller is also one of the longest songs in the film. The film in one part concert, and one part rehearsal footage. There are times where we are jarringly reminded we are seeing a rehearsal, and we haven't even seen the finished project.  Jackson throws his hands up and halts the songs sometimes or we cut in the middle to a piece of production they were working on for the full concert. It works brilliantly, building up the the climax of the song, where we finally hear that catchy hook that made the song so famous.
The production level on this concert was so high, you can't help but feel sorry for everyone who worked on it. It might have been their shot of a big break, but now they have gone months on what was supposed to be a 50 stop tour. Luckily for them, the debt under Michael Jackson's name necessitated a release of this film, opening them up to a much larger public than what would have occurred on tour. There are some real standouts in here. Every single one of the dancers pops just as much as Michael on stage, and the backup band is superb. The standout in the band would have to be female Aussie guitarist Orianthi, who shreds as though her life depended on it. I hate to admit it, but the misogynist in me came out a little when I saw a girl was going to play Eddie Van Halen's solo on "Beat It".  Although, just like the film, expectations were met and surpassed.
Michael Jackson is impressive in more ways than one in this film. He doesn't lip sync, and his voice is tremendous shape for his age (and despite his many facial reconstructions). His dancing, while not on par with what it was during his golden years, is still impressive when you factor in that he was fifty years old. The biggest accomplishment that this film has is the re-humanization of Michael Jackson. The amount of bad press and ill will towards the legendary singer increased as his appearance changed. Much of that feeling has gone away for most people since his death, but really due to the fact that we lost a living legend. This puts a new face on Michael that we have yet to see until now. It is a candid look at the life of a mega superstar a bit past his prime. This film won't change your mind that he was a bit crazy, because it shows that he was at times. But it shows that he was a caring individual, and an extremely talented performer.
There is no doubt in my mind after seeing this that Michael Jackson was probably the greatest solo artist in all of pop music. We see a large number of songs in the film, ending with "Man in the Mirror," which is especially poignant in these times we are enduring right now. Jackson's catalogue is so large that there will be some songs sorely missed such as few of my favorites like "PYT (Pretty Young Thing)", "Dirty Diana", and "Bad". What you do see in this film is amazing, and worth every penny of the admission price. If you are fan this is something you don't want to miss. Casual fans will enjoy this just as much as diehards.  Take your Michael Jackson friends who don't believe the man or the myth, and their whole perspective of Jackson will likely change.
For such a quickly rushed product after Jackson's death, the film hits so many high notes that it makes it my all time new concert film over the Talking Heads' Stop Making Sense. I cannot stress enough, I was amazed at the quality and entertainment presented by this film.
Grade: A+