Get read for a 'Short Circuit' Reboot
Do you think Hollywood will eventually remake every property that was even somewhat successful for them? Will there eventually be reboots of remakes? Well, here is yet another remake for you. Johnny 5 is going to be back on the big screen, and just as highly improbable as ever. I loved these movies as a kid. What kid didn't want to have a robot as a friend? Johnny 5 seemed to be the answer to all those problems. All I need to do was steal a highly experimental robot from the government, and hope for a thunderstorm.
From Variety.com:
---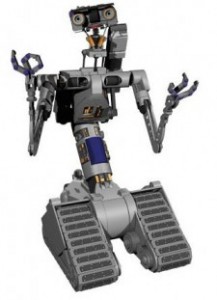 Dimension Films has signed Steve Carr to direct "Short Circuit," the remake of the 1986 sci-fi pic.
Carr is coming off the Kevin James hit "Paul Blart: Mall Cop."
Scripted by Dan Milano ("Robot Chicken"), the remake is a robot reboot that brings the iconic Johnny 5 into the 21st century. Built by the military to be a highly sophisticated weapon, Johnny 5 develops a conscience and personality after being hit by lightning. He befriends a lonely boy and his fractured family.
David Foster and Ryan E. Heppe of David Foster Productions will produce with John Hyde of Rehab Entertainment. Jason Taragan, who partners with Carr in Rumpus Entertainment, will be exec producer.
"Short Circuit" fits into Dimension's priority of making franchise films, a list that includes "Scream 4," "Spy Kids 4," "Clive Barker's Hellraiser," "Scanners" and "An American Werewolf in London." The "Spy Kids" and "Hellraiser" films will be 3-D.
Carr is repped by ICM and Principato Young.
---
One look at the directors credit and my sense of optimism slowly falls. When the best movie on your resume is Next Friday, you probably suck. I'm probably being a bit demeaning. Someone has to make crappy movies, and I guess it is this guy. All I ask is that he not do it with a crappy movie I loved when I was a kid.
One last thing, can we get Guttenberg back for the reboot?