Melinda Dennehy, New Hampshire Teacher Caught Sending Nude Photos To Student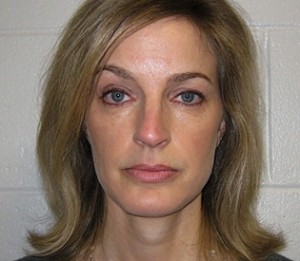 A 41-year old high school teacher is in hot water after sending nude photos to a 15-year old student. Melinda Dennehy sent nude photos over the phone and email within the past two months to an unnamed student. The teacher was found out after the photos started circulating around the school.
Deenehy a teacher at Londonderry High School in Londonderry, NH, turned herself into police today. She is facing charges of indecent exposure and lewdness, and was released on a $10,000 bond. In addition to the bond, Dennehy was placed on administrative leave at her high school after the photos of her were found circulating around the school.
The teen who received the photos also said that Dennehy in addition to the photos also sent him offers of sexual favors.
I know this isn't a funny situation, but I can't help but think of South Park in moments like this. I'm also reminded of a quote by the late Charles Fernley Fawcett, who when talked about an affair he had with his friend's mother at age 15. By his own account, when he was 15 Fawcett had started an affair with his best friend's mother. "If that's child molestation," he declared, "I would wish this curse on every young boy." (Source)
I'm sure I'll get a little slack for making light of this situation, but how many guys wished this happened to them when they were 15? I'm not condoning it, but I do think it is funny.