MEGAMIND Opens November 5! Enter to Win Passes to the St. Louis Advance Screening!
MEGAMIND Opens November 5 NATIONWIDE.
Enter for your chance to win a pass, good for two!
Synopsis: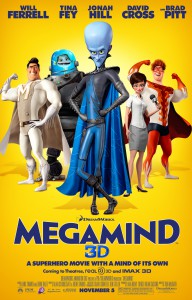 Megamind is the most brilliant super-villain the world has ever known… and the least successful. Over the years, he has tried to conquer Metro City in every imaginable way — Each attempt, a colossal failure thanks to the caped superhero known as "Metro Man," until the day Megamind actually defeats him in the throes of one of his botched evil plans. Suddenly, the fate of Metro City is threatened when a new villain arrives and chaos runs rampant, leaving everyone to wonder: Can the world's biggest "mind" actually be the one to save the day?
In order to enter the contest, become a fan of ReviewSTL on Facebook and suggest ReviewSTL.com to all your friends (click the "suggest to friends" link on the left side of the page). Then post a comment on the ReviewSTL fan page telling us why you want to see the movie! NO PURCHASE NECESSARY. PLEASE REMEMBER TO READ THE RULES!
SCREENING IS SATURDAY, OCTOBER 30.
Good luck! We hope to see you at the movies!
[hdplay id=178 width=595 height=375]