Me and Orson Welles – Movie Review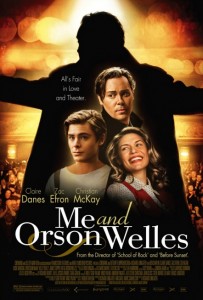 The year is 1937 and a 22-year old Orson Welles (Christian McKay) is in the process of staging what will become his legendary production of Julius Caesar.  His version of the Shakespeare classic was mercilessly pared down, clocking in at a scant 100 minutes (with no intermission).  Characters were omitted.  Dialog was moved around within the play.  Some dialog was even lifted from other Shakespearian works.  And, perhaps most famously, he turned the production into an anti-fascist allegory by outfitting his cast in present-day militaristic uniforms reminiscent of fascist Italy and Nazi Germany.  However, the production was financially troubled and Welles was never allowed to focus his full attention on the play as he was spending large chunks of his day performing on radio shows that were beneath him (something that would become a theme in his life) in an effort to raise money and keep his theater afloat.  Into this maelstrom is thrust high school senior Richard Samuels (Zac Efron).  Richard bluffs his way into a small role in the production and is thrust into a world of theater, sex, literature and intelligentsia.   [morelink]
Me and Orson Welles is a work of historical fiction; the performers and the play they're staging are real but Richard and his love interest, production assistant Sonja (Claire Danes), are wholly fictional.  And for theater and film buffs, seeing people like John Houseman, Joseph Cotten and, of course, Welles before they became legends is a treat.  But since the film is largely conjecture it doesn't really grant any true insight into the actors or the production.  Efron is passable in the role of Richard, but never really rises to the occasion.  His performance, while not blatantly anachronistic, never truly feels a part of the era.  However, the real reason to see the film is McKay as Welles.
Welles (both the man and the character) was a boisterous egotist; a blustery whirlwind of self-satisfied, narcissistic braggadocio.  He's not one to suffer fools gladly…and to be perfectly honest, he doesn't have much patience for smart people either.  There's only room for one genius and that genius is him.  McKay nails every aspect of Welles: the look, the swagger, the arrogance, the charisma and (most importantly) the voice.  Welles had one of the most distinctive voices of his day; a rich, deep, authoritarian baritone with just a hint of an English accent.  There's a reason he was so hotly sought after for radio work.  McKay gets all of it right.  So often when actors play someone famous, their performance is less "acting" than it is an "impression."  But there's none of that here.  You will forget that you're watching an actor play Orson Welles.
Ultimately, director Richard Linklater gives us a movie that's more "cute" than it is "great."  The film is buoyed by McKay's outstanding performance.  And Linklater's love of theater is infectious.  He perfectly recreates the frustration of a bad rehearsal, the nervousness of opening night and the victory lap of a well-received opening night.  However, the movie loses steam every time McKay leaves the screen.
On a scale of 1 to 10, with 10 being Bullets Over Broadway and 1 being Radioland Murders, Me and Orson Welles gets a 7.