Me and Orson Welles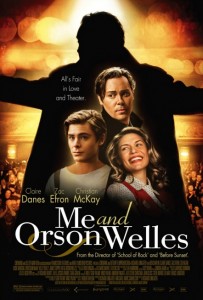 There was a time when Richard Linklater was one of the most promising directors coming up. His indie hit Slacker is cited by many such as Kevin Smith and Jason Reitman, as inspiration to going into film. His career has bounced back and forth since then. To give you an idea of the difference in film qualities. He is responsible for both Dazed and Confused and Bad News Bears. He seems to be returning to form with his latest film, Me and Orson Welles.
At its heart Me and Orson Welles is a coming of age story of Richard Samuels (Zac Efron) who through some quick maneuvering manages to find himself in Orson Welles' Mercury Theater production of Julius Caesar. Welles pairs him with assistant Sonja (Claire Danes) who must work him through his role of Lucius quickly. The young Richard quickly finds romance with the older Sonja. Richard must quickly grow up as learns to deal with the temperamental genius that is Orson Welles. If he gets through it he could have the experience of a lifetime, and have something to show for it.
Linklater transports us to the year of 1937, before Welles had achieved his greatest success, Citizen Kane. The film does a marvelous job of showing us Welles in the height of his radio personality, and the start of his famous Mercury Theatre.  It is hard to believe that the whole production was set in England, because the film looks very true to its New York setting.  The details are very fine, down to the cars on the street and the styles of the era.
The real winner of this film is the performance by Christian McKay. McKay's impersonation of Welles is spot on, and is the performance that carries the film. It is always dangerous to inhabit a role that is a living person that has been well documented already. McKay not only looks much like Welles, but he has his mannerisms and the quality of his voice down pat. It makes you wonder if McKay will go on to be the genius the Welles turned out to be?
Zac Efron gets to throw his teen comedies and musicals behind him for a bit, and try on a bit more hearty of a role for a while. It is unfortunate that the actor seems a bit out of place in the era.  His dialogue which is written in the style of the era comes across as false, and sometimes a bit weird from Efron.  Efron too often lets us know that the slang feels just as foreign to him as it does to the audience. That isn't to say he isn't a likeable lead. In fact his personality and exuberance is probably the saving grace of his performance. I believe Mr. Efron will go on to bigger and better things, unfortunately this isn't a role that will be looked upon as one of his best. Supporting actress Claire Danes seems to have many of the same problems as Efron, and just doesn't seem to fit the era or the role given to her. I never understood why every man in the troupe wanted her, because she seemed very bland on screen.
Linklater gives us great insight into the makings of a theatre production. Anyone who is a fan of live theatre will most likely enjoy the film. Not only to try and glimpse how past greats might have worked, but just to see the ups and downs of a production. If there is one shining achievement in the film it will be Christian McKay's performance, which should be garnering him some awards this season.
Grade: B-