Matt Holliday gets a 7 Year Contract Worth $120 Million from St. Louis Cardinals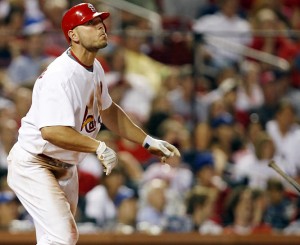 Well Cards fans, get ready to buy your Holliday jerseys. Matt Holliday has resigned with the Cardinals for an astounding $120 millon/7 year contract.  This makes the Cardinals one of just a few teams that employs two $100 million dollar contract boys (Pujols and Holliday).
Holliday was the last holdout of the top tier free agents in the off season, which makes the heft of the contract seem a little bit more shocking. The Cardinals weren't facing a lot of competition for the outfielder, but still awarded him one of the largest contracts in baseball. There is no doubt that the Cardinals needed a player like Holliday in their lineup.  You have to have a threat to go behind the lineup of Albert Pujols or the big guy will be pitched around all season long. With Holliday set in the lineup for another 7 years (and the option for an 8th year in 2017), Pujols will continue to be the most feared man at the plate in baseball.
Here is a neat little graphic that the Post-Dispatch here in St. Louis cooked up to show you just how much money Holliday will be earning. Click here.
So, MLB and Cards fans, what do you think of this contract? Were you happy to keep Holliday? Was the contract a bit over the top? Let us know in the comments!