'Chuck' Comes Back to NBC This Sunday – Must See TV!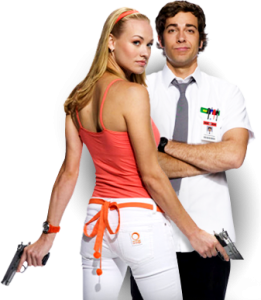 This Sunday my prospects on TV go up, because the first of my two favorite shows come back. Chuck being the first to come back (and then next month is Lost!).  This time Chuck is back with an all new set of powers from the Intersect 2.0. Don't worry folks he'll still be the same loveable Chuck Bartowski, and he'll still need to flash to get himself out of situations. He just won't have to be as reliant on Sarah anymore!
So, now here is the deal. If you don't watch Chuck, set your DVRs or plop yourself on the couch on Sunday and check it out. If you do watch Chuck tell all your friends to watch it as well. The show needs more viewers to keep on airing. We have at least one season now left of Chuck. Wouldn't it be nice if we got at least a couple more?
Your call!