Marvel Begins Search for "Dr. Strange" Director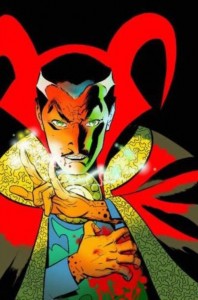 There's been all kinds of Marvel movie in the last week.  With the release of the Guardians of the Galaxy trailer coupled with the announcement of  the cast for the Fantastic Four reboot, one must ask, what else  could Marvel Films have up their sleeves?  Why not start pre-production work on the long talked about Dr. Strange feature film?
The Hollywood Reporter has revealed that Marvel Studios has been or will be speaking four directors about  the upcoming Phase 3 movie.  The film makers in question are Mark Andrews (Disney/Pixars Brave), Nikolaj  Arcel (A Royal Affair), Dean Israelite (Welcome to Wonderland), and Jonathan Levine (50/50 and  Warm Bodies).
I personally think Levine is a great choice.  I am a huge fan of 50/50. With Joseph Gordon-Levitt rumored to  be in the running for the lead (Dr. Stephen Strange), it would seem like a good choice to reunite these two.
Doctor Strange debuted in Strange Tales #110 and created by Stan Lee and Steve Ditko.  Strange is an  arrogant and selfish surgeon whose hands are damaged in a car accident. After he tries everything to fix his  hands, he travels to Tibet to find a cure from a man known as the Ancient One. In an act of selflessness, Strange saves his would be mentor from the Ancient One's disciple Baron Mordo. Strange then becomes the magical art's new hero.
This another property that I think might be to big of a stretch for the non comic fan.  Then again, I thought that about Guardians of the Galaxy and it looks like I might be wrong there. Strange has never been seen on the silver screen before, but he did get his own TV movie  that you can watch if you follow the link.