Steve Kelley Reviews "Machete" Starring Danny Trejo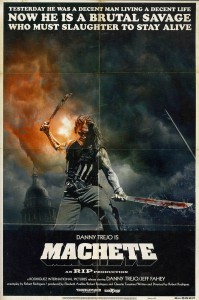 Holy s***.
Pretty sure that's what they should have titled this movie, because that's what I heard people uttering the most throughout the film. Combining boobs and gore and utter ridiculousness, this film has pretty much everything a guy could ask for in a summer flick.
I hadn't seen any of Robert Rodriguez's previous work, so I wasn't too certain what to expect. I didn't think the trailers looked all that appealing to me. But my buddy I took with me, Mike, was a huge fan of Grindhouse and he filled me in on what to expect.
The film starts with Machete (Danny Trejo), a Mexican federal agent, and his partner unsuccessfully raiding a druglord's complex to rescue a hostage. After he is captured by Torrez, the druglord (Steven Effin' Seagal),  Torrez orders him executed, not by shooting him in the head like a reasonable druglord would do, but instead by burning down the house. Obviously bullets are an expensive commodity in Mexico.
Three years later, Machete is across the border in Texas, looking for yardwork. He runs across Luz (Michelle Rodriguez), who runs a low-key taco stand but secretly heads a network dedicated to bringing immigrants across the border and helping them survive. He is recruited by Michael Benz (Jeff Fahey) to assassinate John McLaughlin (Robert DeNiro), a Texas senator who has based his platform on removing illegal immigrants from the state. The plot fails when he is double-crossed by Benz. The rest of the film follows Machete's desire for payback to bring down Benz and, ultimately, Torrez.
I was pretty surprised to see how much starpower was present in the movie. In addition to the actors listed above, Don Johnson, Jessica Alba, Cheech Marin, and Lindsay Lohan are also featured prominently throughout the film along with a handful of other actors.
The film itself is a study in how much the director can get away in a film. Without giving away any surprises or secrets, it seems like each scene tries to outdo the previous one. Be prepared to suspend your disbelief, because plausibility pretty much rolls out the window from scene 1.
If you are a fan of the outlandish, however, there is a lot to like about this film. There's a lot of action as well as a lot of humor, most of which is found in the outrageous. The acting is passable, but I don't think anyone was really there expecting an Oscar-worthy performance.
There was only one issue that I had with the film concerning the nature of the political message. In light of the passage of the legislation in Arizona recently, illegal immigration has become a hot-button topic throughout America. Rodriguez includes the topic as part of the plot and it's pretty clear where he stands on the issue. To be fair, Rodriguez does keep the mood of the film light by inserting various jokes and stereotypes, but I didn't really like the fact that he introduced such a polemical topic into an otherwise light-hearted film.
If you're going to Machete as a fan of Robert Rodriguez or just want to see action (or a lot of gratuitous boobs), this movie will certainly satisfy you. Realism obviously isn't a word in Rodriguez's vocabulary, so it's almost like a comic for grown-ups, but it works well.