Love Happens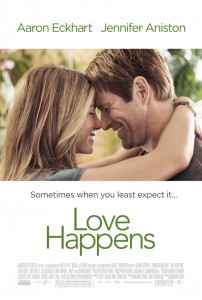 "Love Happens" is a romantic comedy starring Aaron Eckhart and Jennifer Aniston. The film, written and directed by Brandon Camp ("Firefly", writer), is the story of motivational author Burke Ryan (Eckhart) who suffers the traumatic loss of his wife in a car accident. He wrote his book to help himself get over the event, but found that others could benefit from his advice. During one of his motivational seminars and speaking engagements, he meets a florist named Eloise, who helps him come to grips with what happened to his wife. He finds that it is him who ultimately needs some motivation, and both of them grow during the time he is in town.
The film almost entirely takes place in Seattle, after Burke flies in for his motivational seminar. The movie is cleverly narrated by Burke from chapters of his book, which is done very well. His first chapter deals with how to take lemons, and make lemonade – an age old adage, upon which he expounds his methods of tackling daily problems. The movie starts off with a lot of potential. We see Burke face problem after problem, like when it starts to rain and everyone but him opens up an umbrella. We see first hand how he doesn't let these daily mishaps get him down, and it does so in a humorous way. But as the movie progresses, it seems to slow down a bit and the pacing seems less than consistent at some parts. This does not ruin the film, but it changes pace from a dark comedy like "Punch Drunk Love" to something more docile.
Ryan's first encounter with Eloise is awkward as he finds her scribbling on the wall behind a painting at his hotel, and he catches her in the act. She runs off, only to be spotted by Burke later on in the hotel lobby. As he meets her again, she uses sign language to communicate with him, appearing to be deaf. As she leaves the hotel with a disappointed Burke in the background, she briefly speaks with the doorman without any hindrance. Burke finds her again the next day, and realizes that she was blowing him off as she has a perfectly normal conversation with the concierge. While this a perfectly good opportunity to inject some humor, this is where the pacing gets a bit dodgy, and his reaction doesn't seem believable.
When Burke confronts her, he blows up at her. Calling her "Helen Keller," he flips her the bird. He then storms off angrily in to the men's restroom, only to be followed by Eloise for a heated rebuttal. She then storms off in a similar fashion. Cut to the next scene, and Eloise receives flowers from her own shop – with a note that contains the word on the wall that Burke had found earlier. We then cut to Burke waiting at a restaurant, only to have Eloise show up without even a slight bit of hesitation. It is like none of the aforementioned arguments happened, and everything was just perfectly normal. It just doesn't seem believable that he would react that way to being blown off in the first place, because his character is not that of an arrogant and cocky prick. And then they just avoid the whole subject – not even an apology on either parties behalf. But I digress – it just seemed a little strange, and did not seem possible.
The movie overall was entertaining when the pacing sped up. Some of the best parts of the film were when Martin Sheen's character, Burke's father-in-law, shows up. He plays an ex-marine, and the few scenes that he shows up in are pretty funny. I feel that they could have used him a bit more. But overall, the movie is a fun romantic comedy, good for a date night. I just wish that they could have sped up the pacing a bit. It seemed that a lot of nothing was going on at several points in the film, which causes the audience to lose a bit of interest from time to time. For example, there is one scene where Burke goes out on the town with Eloise and some friends. The song "We Will Become Silhouettes" by The Postal Service comes on, which would seem like the perfect song to go out and have some fun to. But I swear that the most fun they have is sticking their gum to a wall, and they climb up onto a big wall. I am not under-exaggerating their night on the town. It could have been a bit more exciting.
Aaron Eckhart does a great job in this role. He has the charm and charisma to pull off the motivational speaker role, and he is definitely a likable character. You do feel sorry for him as you find out what happened to his wife. His pain seems real, and you want him to find whatever he needs to be happy. Jennifer Aniston does an OK acting job, but the problem is that she was cast wrong in this part. She is supposed to play a free-spirited, easy going girl. But instead, she just seems more controlling and clingy, which does not work for her character. Some of the moments when she is trying to instill her wisdom upon Burke, and help him out, just didn't feel quite right.
"Love Happens" is a B-