Lost: The Complete Collection on Blu-ray For Only $99.99! That's $160 in Savings!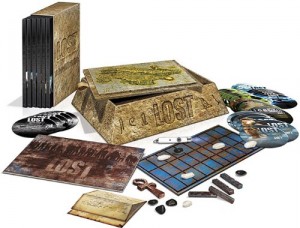 Amazon.com has a great one-day deal going on for LOST right now. Today only, you can purchase Lost: The Complete Collection on Bluray for only $279.99 $99.99. That is $180 off of the regular price!
Watch the entire epic story of Lost – the series that redefined television – from its phenomenal opening scene to its magnificent final moment. Uncover the secrets of what caused Oceanic 815 to crash, what ultimately drew the passengers together, and relive their incredible journey as they battle to rewrite their own fate. Experience a landmark in the history of entertainment with Lost: The Complete Collection, featuring every episode of all six seasons and includes one full disc of never-before-seen bonus with over two hours of content exclusive to the complete collection. Television doesn't get any better than this.  –Amazon.com
Special Features
Over three hours of never-before-seen bonus footage:
Letting Go: Reflections of a Six-Year Journey: Join the cast and crew as they take you on a unique tour of Oahu, the island they called home for six years, and share their intimate feelings and stories about the series.
Planet Lost: Examine the worldwide phenomenon that is Lost. From Comic-Con to the Da Vinci Festival in Rome.
Artifacts Of The Island: Inside the Lost Prop House: The cast, writers, and producers explore the show's legendary props and discuss their significance and emotional ties to the characters.
Swan Song: Orchestrating The Final Moments of Lost: The cast and crew wrap their emotional final scenes, accompanied by Michael Giacchino's stirring score.
The Lost Slapdowns: Celebrity Lost fans get in the face of executive producers Damon Lindelof and Carlton Cuse with pressing questions about the final season.
Lost On Location: Get the inside stories from the cast and crew.
Deleted Scenes
Collectible Lost Senet game as seen in Season 6
Lost Island replica
Ankh contains secret message from Jacob
Black torch light that reveals additional clues to find the hidden bonus disc
Recovered Black Rock Journal Entry written by the producers
Exclusive episode guide
Episodes plus 32 hours of bonus from all seasons
Relive on of the most incredible shows in television in crystal clear HD for a fraction of the retail price.
Purchase Lost: The Complete Collection on Bluray at Amazon.com.