BEAUTY AND THE BEAST 3D Opens January 13! Enter to Win Passes to the St. Louis Advance Screening!
Enter for your chance to win a pass, good for two!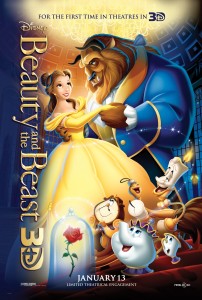 Belle is a bright and beautiful young woman who's taken prisoner by a hideous beast in his castle. Despite her precarious situation, Belle befriends the castle's enchanted staff — a teapot, a candelabra and a mantel clock, among others — and ultimately learns to see beneath the Beast's exterior to discover the heart and soul of a prince.
Starring: Paige O'Hara, Robby Benson, Rex Everhart (II), Richard White, Jesse Corti
Directed by: Kirk Wise, Gary Trousdale
In order to enter the contest, become a fan of ReviewSTL on Facebook and share ReviewSTL.com with all your friends (click the "share" link on the bottom-left side of the page) – telling us why you can't wait to see the movie in 3D! Then like the post to complete your entry. NO PURCHASE NECESSARY. PLEASE REMEMBER TO READ THE RULES!
Screening is Saturday, January 7th, 10am at the Wehrenberg Galaxy 14 Cine.
Good luck! We hope to see you at the movies!
BEAUTY AND THE BEAST 3D opens nationwide on January 13.