Limp Bizkit Returns to St. Louis, Playing Pops on 6/1 Presented by 105.7 The Point
Limp Bizkit's 2013 Tour Makes a Stop at Pops in St. Louis on Saturday, June 1.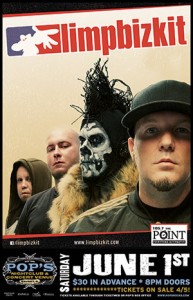 Way back in the late 90s and early 2000s, Limp Bizkit was one of the biggest bands on the planet. Front man Fred Durst was spitting rhymes with Ice Cube, Method Man, and Eminem, among others. Sold out arena after sold out arena, it looked like Limp Bizkit would never go away.
A couple years later, and a pop-rock explosion later, Limp Bizkit seemed to be dead. Members made headlines for arguing with one another, or Durst firing off on some celebrity, the music, or the "Nookie" was gone. Most of the angry teenagers, who grew up listening to Durst and his band, actually grew up. They traded in their red Yankees hat for a day job and a family. It appeared that Limp Bizkits time in the limelight had passed. Durst had this to say about the group's demise in a 2012 interview with E News Online:
"But here's the deal: say in 2000, there were 35 million people who connected to this band," Durst said, delivering the final death blow. "Twelve years later, lots of those people have moved on. We were a moment in time and it's over."
Apparently, it isn't quite over. Durst and his band will be out on the road this summer to promote their new album, "Stampede of the Disco Elephants." The album is due out sometime this year.
Limp Bizkit's last effort, 2011s "Gold Cobra," was a commercial failure. Most stations that used to play Limp Bizkit, like 105.7 The Point, did not play any of the tracks on air. Many former fans of the group didn't bother to give it a listen.
Personally, I thought the album was pretty decent. It wasn't their best album, by any means, but it was not horrible either. I dug the title track, as well as the song "Shotgun."
The band recently announced it had signed with Cash Money Records, the same company that features Lil' Wayne. Does this mean the group will abandon their rock roots and go straight to rap? I personally think they should stick with the formula that their fans loved in the early 2000s.
While some of their fans have moved on, I am very interested in hearing the new album, whenever it is released. Judging by the way tickets are selling for Limp Bizkit's upcoming show on June 1 at Pop's, the group still has some fans that have "Faith" in Durst and his band mates.  Pop's is reporting that the show is selling very well. Even if their new stuff isn't as good as "Dolla Bill Y'all", it will be fun to see Durst and his crew prove that they can still "Break Stuff."
For more information and tickets, visit popsrocks.com.