Like Hipsters? Love Pub Crawls? Join the 'Dress Like a Hipster Pub Crawl'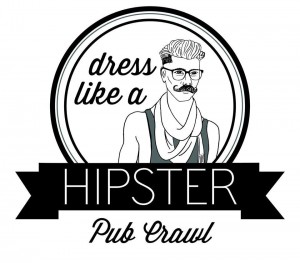 I remember back in the day when being uncool was, well, uncool. When I was in elementary school, every kid had to have the latest fashions: the Adidas jackets, the shoes with soles that lit up, track jackets, etc. Those who didn't get in on the trend were shunned, outcasts.
Somewhere along the way, though, it became cool to buck the trends. Mainstream trends became bete noire to some, preferring to set their own avant garde trends and other French words I'm not sure I'm even using properly.
Mere mention of the word hipster can either fathom fond thoughts or pejorative dirty words I'm not allowed to print here. Regardless, when one hears the word hipster, one's mind tends to conjure up certain images: a scarf, perhaps a fedora, big glasses with thick frames, and (at least for the guys) thick mustaches.
Leave it to the founders of the wildly successful St. Louis Baconfest to come up with yet another non-traditional social event in the form of the "Dress Like a Hipster Pub Crawl," taking place Saturday, July 12, in Soulard. The brainchild of Matt Willer and Matt Guillot, owners of Team Bacon LLC, the pub crawl is scheduled to begin around 2 and end when all the pubs in the area close.
"We ultimately decided to do it because we like to create things, and once I came up with the concept, well it's just too funny to not move forward with it!" Matt Willer exclaims. And who could argue with his initiative? Last year's Baconfest drew over 15,000 people, well over the 10,000 they'd anticipated.
The pub crawl isn't anticipated to be quite as large, he says. "With our marketing plan we're anticipating about 1,000 people participating," Willer estimates. Still, with some strong marketing and word of mouth, there's no reason to believe they can't easily achieve this number.
Everyone attending will receive a hipster start-up kit consisting of hipster glasses, a scarf, stick-on mustache, gloves with no finger tips, and a beer koozie that says "I only drink craft beer." Those who register by June 1 will receive a ticket for $22.09, while those registering by June 30 will have to pay $32.64.
Excited as Willer is, he's quick to admit that he looked to outside sources for inspiration. "Recently, one of our friends and her boyfriend, both not hipsters, decided to dress as hipsters and went to a popular coffee & beer establishment called Foam. They thought it would be a fun date to change their clothing style for an evening, experience the local hipster culture, so that's what they did. And they had a great time!" he explains. "Their date idea inspired me to come up with a pub crawl where people dress up like hipsters."
The event is still in its nascent stages of planning, so plenty is still up in the air: drink specials, the number of stops, even the stops themselves. Willer will be updating the website as more information becomes available.
Regardless, he feels confident this event has every opportunity to succeed, mainly because of its unique identity. "Many other styles have already been done in pub crawl form in St. Louis and around the country. However, no one has done a hipster themed pub crawl here.
"It's something new, and themed events are fun."
For more information, check out the Facebook page. To purchase tickets, visit the official website.