Killers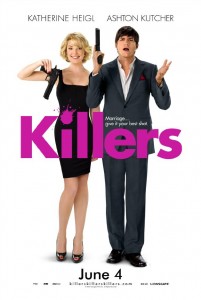 Katherine Heigl shooting blanks again in her latest romantic comedy 'KILLERS', only this time she is dragging down Ashton Kutcher with her.
I guess it was obvious when Heigl left television we would see more of her on the big screen. She teams again with director Robert Luketic (The Ugly Truth) on a 2010 version of 'True Lies'.
Heigl plays Jen Kornfelt, newly single lady (her boyfriend dumped her) force to vacation with her parents in the south of France. How is Jen expected to keep a boy around with an over protective military father (played by Tom Selleck) and a crazy alcoholic mother (Catherine O'Hara) micromanaging her every move. That is until she bumps into Spencer in the hotel elevator. Spencer (Ashton Kutcher) is in Nice for business, he is a C.I.A. assassin there to execute an assignment. Spencer is smitten at first sight and walks away from the "killing business" to settle down with the Kornfelts in suburban America.
Evidentially like in the mob, you just can't quit the C.I.A. either. Three years following their first date in France, Spencer is a construction contractor and Jen is working with a software company. They are living the dream until a $20 million dollar price is put on Spencer's head. That is when the heavenly subdivision turns into a suburban hell crawling with assassins with all their neighbors and co-workers are out to get the happy couple. This also forces Spencer to finally tell Jen what he did for a living when they met and of course Heigl joins in with all the chaos. There is one really big twist that you will see coming a mile away, but I won't give it away here, you have to go see it like I did.
'KILLERS' is a pretty good date movie with Ashton Kutcher running around without a shirt for the gals and a busty Heigl doing a sub-par job acting in a bra throughout the film. Now for the upside to the film, the scenery in Nice and a pretty good soundtrack featuring new music from Snow Patrol. The best thing Catherine O'Hara, cracking jokes while consuming enormous quantities of alcohol. She was GREAT!
I am Karl, the Flick Fanatic and as bad an actress as Katherine Heigl is, she can't sink this ship on her own. Kutcher and the gang team up to make this a pretty good matinee date film.
Rated PG-13 (violence, language and sexual situations)
Running Time: 105 mins