"Nowhere Boy" HD Movie Trailer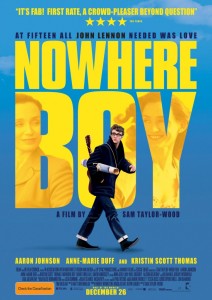 No other band in history seems to be as idolized and romanticized as The Beatles. Nowhere Boy takes the life of John Lennon, and presents a coming of age story. Playing Lennon this time around is Aaron Johnson, in a much different turn than his last character Kick-Ass.  Biopics of dead musicians seem to always do good business, and get decent critical response. I haven't heard much about this, but I can only think that this will be another hit for Aaron Johnson.
Synopsis:
Imagine… John Lennon's childhood. Liverpool 1955: a smart and troubled fifteen year-old is hungry for experience. In a family full of secrets, two incredible women clash over John: Mimi, the buttoned-up Aunt who raised him, and Julia, the prodigal mother. Yearning for a normal family, John escapes into the new and exciting world of rock n' roll where his fledgling genius finds a kindred spirit in the teenage Paul McCartney. Just as John begins his new life, tragedy strikes. But a resilient young man finds his voice – and an icon explodes into the world.
Starring: Kristin Scott Thomas, Anne-Marie Duff, Aaron Johnson, Thomas Sangster, David Morrissey
Directed by: Sam Taylor-Wood
Produced by: Tim Haslam, Jon Diamond, Tessa Ross
Genres: Art/Foreign, Drama, Musical/Performing Arts and Biopic
Release Date: October 8th, 2010 (limited)