Kid Rock & Lynyrd Skynyrd Concert in St. Louis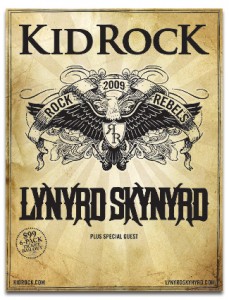 First off let me tell you I don't have a Harley, I don't drink Pabst, Natural lite, or even Stag, I don't own a gun, or have anything with the confederate flag except for my old Dukes of Hazzard toys. I do however like Classic Rock (Lynyrd Skynyrd) and Kid Rock as well. I did not realize how out of place I would be at this concert, but enjoyed it as much as the Red Neck Biker sitting next to me.
Even though the economy is bad, the Verizon Wireless Amphitheater was packed! I have been to many concerts there in the past but I have never seen a crowd quite like this. The lawn was sold out. I think there was more leather being worn than shirts. I know a 4 pack lawn seat package ran around $100.00, but Mr. Rock would thank the crowd later for spending their "Hard earned Money." On watching him and the Brown Tucker Band.
Black Stone Cherry opened the show. I didn't know who they were before the show, and I still don't know who they are now. They did not impress me, except after their 45 minute set they signed autographs for the fans on the south side of the amphitheater.
Skynyrd came on next, and like the concert Monday. I looked as this as a double billing. There were probably more Skynyrd shirts in the audience than Kid Rock shirts. Jonny Van Zant, Gary Rossington and the rest of the always rotating musicians that make up the all mighty and immortal Skynyrd, walked out onto the stage with thousands of cheers. Van Zant started the concert with "God Almighty There are a lot of you fans out there tonight. How many are true Skynyrd fans?" Then after getting the fans energized burst into "that Smell" oooh that smell, and boy let me tell you I could smell that smell all night.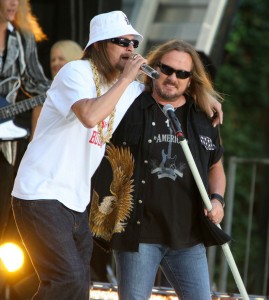 Skynyrd did all of their hall of fame hit songs including "simple man" which the dedicated to all of the troops, and the crowd waved American Flags that were handed out as we came into the Amphitheater. Van Zant then talked about how they are just getting back from Europe and how there is no Place like America. This was the intro for "Sweet Home Alabama" As I said before Skynrd played all of the fan favorites "Gimmie Three Steps", "Saturday Night Special"and then the encore of their set, of Course "Free Bird" I thought I came to see Kid Rock, but he is going to be hard pressed to keep up with the red neck rocking crowd like Skynrd did. I now know why they are in the Rock and Roll Hall of Fame great energy along with great songs.
A white parachute stage curtain is put up and we can only guess they are preparing the stage for Kid Rock. The lights finally go out and we see a silhouette of Kid singing the start of "Rock n Roll Jesus" The Curtain drops and Kid comes out with a Flurry of pyrotechnics, with a giant blow up bottle of the new black cherry – infused version of Jim Beam Red Stag (who was the sponser of the concert) Rock then went right into "son of Detroit" and "you ain't never met a Mother Fucker Quite Like Me".
Rocks energy was contagious as I looked around the near sellout crowd of 22,000 people who were all still partying, drinking, Jumping, Singing, and waving their hands in the air. Rock hardly left the stage except between "Cocky" and "American Badass" to Change his shirt. During this time he gave a shout out to his Band who are "All live, No Tape deck on stage, All Hard hitting musicians who had done their time living in hotels, sleeping on floors. No American Idol Bull Shit, Just American Baddass." "Low Life", All Summer long", and "Amen" Followed.
A piano is rolled out onto stage and rock sits down and plays a little blues, then goes into "Cowboy" in the middle of cowboy Rock stops and says lets get a little hillbilly and broke out into "Good ole Boys" with the beginning of the Dukes of Hazard Playing on the Video screens. The Crowd ate the up, and I must admit I loved it as well.
Rock then went into "wastn Time", and "Picture" then he showed us all how musically gifted, and talented he is. Starting with the turn table rock started rocking by himself. Ending that set with drinking a shot of the Red Stag that was spinning on one of the turn tables, then going to the guitar and finally the drums. Rock then started "So Hot" and one of my favorites "Bawitdaba" which went on for like 7 minutes or so with Rock running around with his shirt off still going full forced and full of energy.
For the encore Kid came out with a huge American flag in the Background and sang "Born in the USA." Second best performance of that song only to Bruce himself!
Awesome show and I would recommend everyone to see Kid Rock Someday! He kept the crowd with him the whole show, he was highly energetic and a great performer!
Lynyrd Skynyrd – B+
Kid Rock – A+