G-FORCE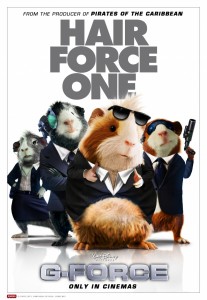 I admit that going into the G-Force movie with my five-year-old daughter, I was thinking it was going to be nap time. Lots of the kids films that look like this are, but I was presently surprised. I have to hand it to producer Jerry Bruckheimer (Pirates Of the Caribbean), for finding another hit to put his name on.
Just because this movie is featuring a bunch of cute little talking guinea pigs, insects and some other cute pet shop characters doesn't mean that this is a cutesy kids film with nothing for the adults in the audience. In other words "G – Force" Is your typical Bruckheimer film, with lots of action, explosions, and great special effects. There is hardly any slow and dull moments, and there is probably at least laugh every scene, great for both the Adult and the kids.
Hoyt H. Yeatman Jr's (Veteran Visual Effect Artist) directorial debut hits the the right note with everyone in the audience. The caper is about a highly skilled, specialized genetic altered guinea pig ops team headed by Darwin (voiced by Sam Rockwell), Blaster the arms specialist voiced by (Tracy Morgan), Juarez (Penelope Cruz) and the blind but brilliant mole Speckles (Nicolas Cage). G-force was trained by Ben (Zach Galifianakis) to be special ops and sends them out to infiltrate the estate of an evil industrialist Saber (Bill Nighly) who guess what has the idea of taking over the world.
The story we have heard before, but the way Yeatman get us there and tells it is really enjoyable. After the first infiltration the government shuts down G-Force and the team has to escape a pet store. This is where they meet Hurly (Jon Favreau) who is just a regular pet store guinea pig. The heroes then learn they have a time limit to stop the evil Saber from taking over the world. Will they be successful I will let you go and find out.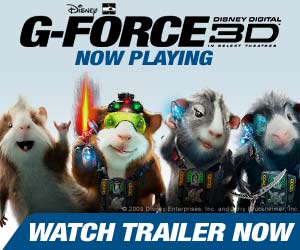 I predict there will be a "G-Force 2" and that kids and parents will both like this movie. Disney, Bruckheimer and everyone involved does a great job entertaining the crowd, and making a movie that my daughter sat through the entire film with the 3D glasses on. She also talked about the film all the way home – which to me makes it a great kids flick.
Overall with the high-end production values, Scott Stokdyk's state-of-the art effects, and Yeatman's story telling – I rate this Movie an A for kids 4 to 12, and still a good B- for adults. I know this is high for a goofy kids film, but I enjoyed it almost as much as my daughter did.