Kick-Ass Star, Aaron Johnson, and his Filmmaker Cougar Fiancee, Sam Taylor Wood, Welcome Daughter Wylda Rae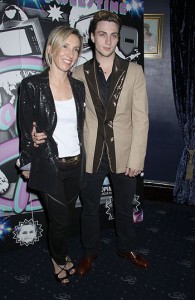 Aaron Johnson is a young British actor whose career is on the rise after a starring role in comic book adaptation, Kick-Ass, and playing John Lennon in the biopic, Nowhere Boy.  It was on the set of Nowhere Boy where the 20-year-old actor met his fiancee, the 43-year-old filmmaker, Sam Taylor Wood.
The couple reportedly hooked up on set, and then by October 2009 they were engaged. The news about their engagement did not come out til earlier this year, when it was announced that Wood was pregnant with Johnson's child.
Their first daughter, Wylda Rae, was born in London on Wednesday. It is Johnson's first child, and will be Taylor's third. (She has two daughters from her previous marriage.)
I don't even know what to think of this, it is an extremely odd coupling, and the produced an extremely weird name for their first child. Although, from everything I've read, they seem to be a happy couple, and I guess that is all that matters?
Let us know what you think in the comments!