Kevin Smith Talks to Batman Beyond 2.0 Author Kyle Higgins on 'Fat Man on Batman' (#42)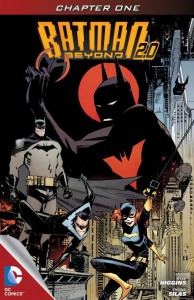 Fat Man on Batman #042: Higgins' List
Purchase Batman Beyond 2.0 #1 on comiXology.
Aug 1, 2013 – In the Fat Cave this week, the author of Batman: Gates of Gotham and the writer of Nightwing Kyle Higgins returns to talk about his new BATMAN BEYOND digital comic and share his 5 favorite Bat tales you might've missed! Plus: JUSTICE LEAGUE: THE FLASHPOINT PARADOX gets a sloppy BJ'er.
About Batman Beyond 2.0 (2013-) #1:
Things have changed for Terry McGinnis. Now a freshman at Neo-Gotham University, Terry struggles with his role as Batman as it threatens his education and his life as a normal teenager. And when a prominent public figure is murdered, Terry's world is thrown into even greater turmoil!