A Renovated Kemper Art Museum Presents a Landmark Exhibition from Ai Weiwei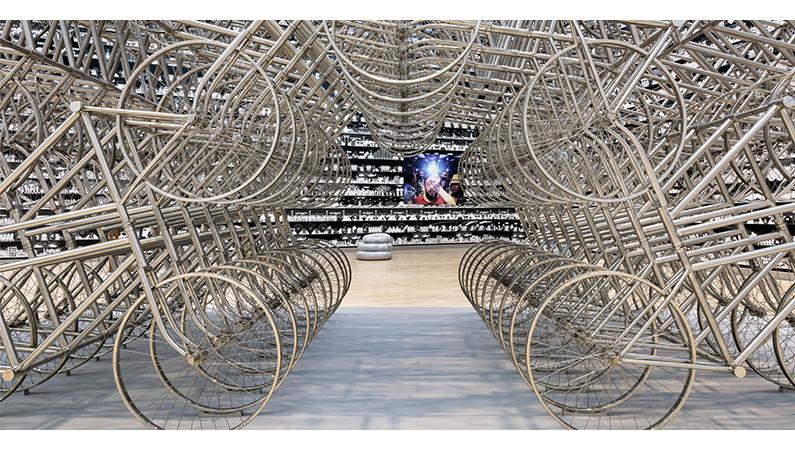 Photo credit: Josh White
The newly renovated Mildred Lane Kemper Museum has punctuated the arrival of its new home on the campus of Washington University with Ai Weiwei: Bare Life, a dynamic and emotionally powerful show from one of the most important artists and activists in contemporary art.
Known for his provocative work in several media, Ai Weiwei is not afraid to draw attention to himself to further social change. Born in Beijing in 1957, he and his family spent sixteen years in a Chinese labor camp before relocation to the Chinese capital in 1976.
After studying animation there, he moved to New York at the age of 24. Artistically freed, he spent the next two decades making art that depicted key social issues, like political unrest and homelessness. Returning to China in 1993, he established the Beijing East Village art colony, the China Art Archives and Warehouse, an independent art space and an architectural studio, FAKE design. His return to China culminated with his collaboration on the "Birds Nest," Beijing's 2008 Summer Olympics stadium.
Despite his international acclaim artist, Ai never wavered in criticizing the oppressive policies of his native country. Using his prominence as a platform he continued to speak out for reform. Tired of his ongoing criticism, he was arrested and detained by for 81 days in 2011. Over the next four years, he was placed under government surveillance before being allowed to leave China in 2015. Escaping to the West allowed Ai Weiwei an opportunity to create his art on his terms. Free of censorship and fear of reprisal, the artist focused his attention on creating art that emphasized political activism and social change.
Like the man himself, Bare Life does not shy away from confronting the issues of today. In his first show in the Midwest. The exhibition collects a unified body of the artist's work, in various media, from the last two decades. More than a retrospective, it features over 35 works, including large-scale and site-specific installations as well as works being shown in the United States for the first time.
Serving as a reminder of how art can act as a catalyst for social change and statements against injustice, Ai explores the seemingly opposite dynamics between contemporary art and realism while also exploring a central issue in art; the relationship between created art and copied art. It also emphasizes the revitalization of craft in contemporary art.
Divided into two sections, the exhibition pulls no punches in changing the viewer's initial perceptions of his subjects. Bold, combative and poignant, each section of Bare Life focuses on Ai Weiwei's ongoing themes of humanitarianism and defiance in his work.
The first section, Bare Life is Influenced by the philosophical works of Giorgio Agamben, who emphasized the importance of living a sacred and 'bare' life. The works displayed here are bombastic commentaries on the global refugee crisis and an artistic calling out of China's handling of the 2008 Sichuan earthquake.
Ai's masterful use of visuals begins with Bombs, a wallpaper covering the Saligman Family Atrium with pictures of 43 bombs, missiles and weapons of mass destruction nestled comfortably alongside each other. Shown collectively, they call attention to the brutality of war and the economics of the refugee crisis.
Upon entry into the Ebsworth Gallery, one cannot help being overwhelmed by Ai's site-specific installation, Forever Bicycles. A powerful statement on consumerism and functionality, it features 720 "Forever" bikes (Forever being the manufacturer's name) interlocked into a cohesive sculpture that fills the center of the gallery. Forged together, the bicycles open to form an archway that surrounds the viewer while also serving as a gateway to other works in the gallery.
Odyssey 2016 challenges the viewer to think about the issue of refugees. Bold and intense, Weiwei's use of wallpaper underscores the historical plight of refugees by illustrating the displaced along a journey of six stages, ranging from antiquity to the present. Weiwei's anachronistic black and white wallpaper uses traditional Classicism as a launching point for exploring how ancient and current media portray displacement in their art, objects, stories, and narratives.
The second half, entitled Rupture sees Weiwei in an artistic dialogue with the political theory of Hannah Arendt. A tussle where the past and future collide, resulting in a powerful statement on economics and social change. It also finds Ai contemplating the legacy of his native China. From the cultural Revolution to its current status as an economic heavyweight.
It is impossible to not be moved by Through, an installation made from wooden pillar collected from derelict Buddhist temples. Massive in scale, it's latticework of conjoined wood addresses China's rupture from its history.
Although Ai is greatly influenced by the works of Duchamp, Warhol and Jasper Johns, his art moves beyond them into more daring territory, especially with Dropping a Han Dynasty Urn. Made from LEGOs it mimics the destruction of a priceless Han Dynasty object. In doing this Ai again speaks of his homeland's break with tradition.
As the inaugural show at the revamped Mildred Lane Kemper Museum, Bare Life is quite a coup for the museum. Despite a career with over 100 shows worldwide, Ai's exhibition here serves not only as a retrospective by a compelling and important artist but also as a proclamation by the museum that they are committed to curating bold, invigorating and challenging work that speaks to the importance of creativity and audacity in contemporary culture.
Ai Weiwei: Bare Life is on view at the Kemper Art Museum, on the campus of Washington University, through January 5, 2020. For more information on programming for Ai Weiwei: Bare Life visit www.Kemperartmuseum.wustl.edu or follow the museum on Twitter, Facebook and Instagram.