Karl Urban Will Battle Lena Headey in "Judge Dredd"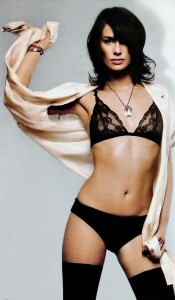 Is Karl Urban a bad ass?  Yes!
Is Lena Headey beautiful?  Yes!
Is this film going to be awesome?  Let's not get ahead of ourselves.
It has just been confirmed that Lena Headey, most famous for playing Sarah Connor in Terminator: The Sarah Connor Chronicles and playing Gerard Butler's wife in 300, will be playing the main villain in the upcoming reboot Judge Dredd.  The only other major names attached to the film are Karl Urban and Olivia Thirlby, but it's easy to argue that Thirlby is not a big name. 
Peter Travis is directing the film.  His biggest film thus far has been Vantage Point which was a major letdown for me, but I am willing to give the man a second chance.  Judge Dredd takes place in a futuristic city where the police have the authority to act as judge, jury, and excutioner.  The character is most notable for the debacle starring Sylvester Stallone.  Hopefully this film can erase the other one out of our memories.
Favorite Karl Urban film? Let us know in the comments below.