Julie & Julia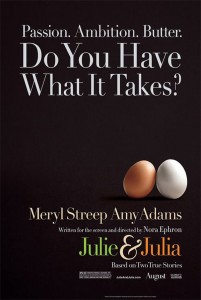 Nora Ephron's adaptation of two books connected to the life and teachings of the chef Julia Child is an often hilarious yet a bit overly long tale that overall is quite the success in the end and carries one of the finest performances of the year.
Julie Powell is a wannabe writer. Having written half a novel and never got around to finishing it, she is now living a life in a cubicle and at home in a nine hundred square foot studio apartment in Queens with her husband. While the couple is happy, Julie dreams of more and hopes to follow through on something once in her life. Enter Julia Child's book Mastering the Art of French Cooking and a goal of preparing every recipe in the book over the course of the year while blogging about her experiences online. Julie's story is intercut with Julia Child's first adventures into cooking and her success along the way both professionally and personally as her relationship with her husband Paul takes center stage. We follow the two as they move through their lives and their paralleling of sorts works us towards Julie's deadline to finish all the recipes in the book.
The film is a mostly up beat affair with little drama and no huge life altering events that stick out over the course of these two character's stories. So anyone who is looking for a story with all these twists and emotional turns, look elsewhere, well still come here, just don't expect that kind of film. The film is more of a celebration of food, Julia Child, and personal triumph while setting you up to believe in yourself if you want to do something. Thankfully the film is also appealing to both sexes and anyone who loves food. After walking out of the film you will want to go out and buy Child's cookbooks and get cooking everything looks so good in the film. And the men in the film are also extremely likeable and realistic providing a number of touching moments, hilarious lines, and strong companions for their lovers in the film. The film overall feels very honest and stays true to the books without sensationalizing things it seems. This fact is never more relevant in the big pay off we expect that never comes, which might upset some viewers, but ultimately does nothing to hurt the film; instead just making us ponder why said event never happened.
The film does over extend itself a bit though sadly, because for the first hour of this film I was falling head over heels for it. The film moves along at a whips pace and will have you laughing every scene along the way. When Julie begins to have to overcome that inevitable wall is where the film might have needed a bit of tightening. And the personal drama in Julie's life seems a bit overdone and was played up just for the simple fact that for some reason filmmakers think we have to have a conflict in a film. Now, they don't blow things out of proportion, they just linger on said event and drag it out much longer than necessary, especially for an event that only lasted a day or two. The film also begins staying with one story longer and longer it seems in the latter half of the film and the extended breaks work about 50% of the time, the other half I found myself anxious to get back to see what is going on with the other story. These quips hardly hurt the film in anything but a minor way and overall the film is thoroughly enjoyable.
The actors in the film are also a marvel with Meryl Streep transforming into Child and delivering one of her best turns in years. Constantly hilarious, loud, and a blast to watch, every scene with Child is a delight. An incredible personality, Streep has no problem filling out her shoes and it helps her even further to be able to bounce off of the excellent Stanley Tucci as he husband Paul. The two spend most of their scenes together and their chemistry is as delectable as the entrées going up on the screen. Tucci is full of heart and is constantly making us laugh along the way. There story is so engaging, it is a real testament to how good Amy Adams and Chris Messina are as we still want to see their story as well. The only curious moment between them came in that bit of contrived and over extended drama I touched on earlier, but other than that they are extremely charming and natural as a young couple living a life one meal at a time through Child's cook book. The two's chemistry is just as strong as the other couple in the film, but it is a modern romance compared to the old school nature of the Child's. Chris Messina is having a nice little run of late popping up in some quality films, and I for one have always enjoyed him and he is great here as well. Adams is cute and uplifting as Julie, but the third act is supposed to have us believing she is some sort of bitch, and if the characters weren't telling us this, I would never have thought it because she is just so likeable. Anyways, I think that lends itself more to the lack of writing enough bitch into the character and instead just tells us she is one because that is what the book says. Jane Lynch also has a nice brief turn as Child's sister and I am always up for more work from her as she is as fun her as always, but gets to bust her acting chops a bit more here than usual.
In the end, Julie and Julia is a thoroughly entertaining and light hearted tale full of hilarious moments and some sweet relationships. A little slow at times, the film is otherwise thoroughly engaging outside a couple of contrived character moments that the filmmakers seemed to play up a bit too much trying to add some drama to this delightful story. Meryl Streep is phenomenal, delivering one of the finest performances of the year, and the rest of the cast is excellent as well. You will remember Streep and Tucci's work the most, but Adams and Messina turn in just as admirable work if a bit understated to their "competition". A great little biopic at its heart, a couple dull moments hold it back from being fantastic, but I still wholly recommend you dive into Child's world as there is plenty to love and enjoy in this film.
Julie and Julia is a B+ or an A-, I am sorry I can't decide at this moment.