Legendary Writer-Director John Hughes Dies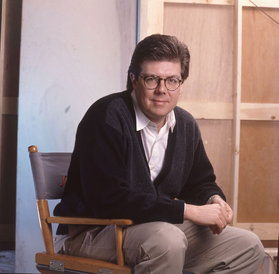 Well, some sad news. Writer-Director John Hughes has passed away, aged 59, today of a heart attack. Hughes director of the popular brat pack comedies, Pretty in Pink, The Breakfast Club, Sixteen Candles, and as well as other popular comedies, Ferris Bueller's Day Off and Planes, Trains, and Automobiles.
Born in Lansing, Michigan on February 18, 1950. Hughes grew up in the Northbrook/Northshore area and used the area in many of his films, but usually never referred to it by name, if he did it was referenced as Shermer, Illinois. Hughes started out as an ad copywriter in an advertising firm in Chicago. He eventually started penning jokes for established comedians and after a bit of sucess in comedy he wrote a short story for the National Lampoon titled Vacation '58, which went on to be the basis for the National Lampoon's Vacation starring Chevy Chase.
Hughes career really rocketed with his directorial debut, Sixteen Candles, which recieved heaps of critical praise and cemented his  status as a comedic director who could realistically portray middle class life for teenagers. With his established "Brat Pack" actors Hughes went onto create more teen centered movies such as, The Breakfast Club, Pretty in Pink, Weird Science, and Ferris Bueller's Day Off.
Hughes success didn't stop there though. He also wrote and directed the famous John Candy and Steven Martin comedy Planes, Trains and Automobiles, which had some of its scenes filmed here in St. Louis at Lambert Airport. He eventually went on to write and produce the Home Alone films, which earned his biggest commercial success to date.
Hughes was a very influential writer and director, and even though he retired in 1994 his presence will be sorely missed.
On a side note, is this summer becoming increasingly depressing for anyone else? It seems we have lost an extreme amount of celebrities so far this year. Does it seem like more than average for anyone else as well?