Judd Apatow and Paul Feig Teaming Up Again For New Comedy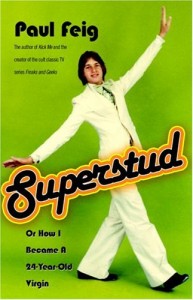 Freaks and Geeks' Creators Judd Apatow and Paul Feig are reteaming for a Universal produced comedy starring SNL member, Kristen Wiig. Feig will be directing the film which at the moment is an untitled wedding comedy, with Apatow producing along with Barry Mendel.
Apatow is a bit of a golden boy in Hollywood these days with the success of films like Knocked Up and 40 Year Old Virgin. Feig, however, is a bit of a lesser known quantity for a lot of people. He has been involved with a lot of great comedies of the course of his career including creating Freaks and Geeks, which is loosely based on his personal experiences, and directing many episodes of Arrested Development. Feig has also directed multiple episodes of NBC's The Office.
I'm excited about these two teaming up again. I've been a big fan ever since Freaks and Geeks. My enjoyment of their brand of comedy also made me go out and buy Feig's books, Superstud and Kick Me: Adventures in Adolescence, both of which I enjoyed very much. Pair these two with one of the funniest women in comedy at the moment, Kristen Wiig, and oyu have a winner.