Johnny Depp and Girlfriend Vanessa Paradis Co-Starring in "American Lover"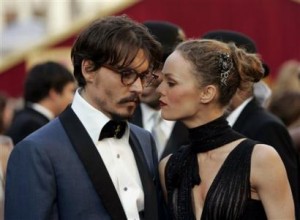 Johnny Depp and his longtime girlfriend, Vanessa Paradis are set to star in Lasse Halstrom's (Dear John, What's Eating Gilbert Grape?) American Lover. The two will be bringing their natural chemistry to a story which will most likely be taken from de Beauvoir's famous collection of communiqués between the pair in the 1940s, A Transatlantic Love Affair: Letters To Nelson Algren.
The film may not be under way for a while. Depp still has to finish shooting The Tourist with Angelina Jolie, and after that he has to film the fourth film in the Pirates of the Caribbean series, On Stranger Tides. Halstrom has to continue promoting Dear John, and has another film he plans to shoot, a sex change drama starring Nicole Kidman and and Gwyneth Paltrow.
Depp and Paradis have been together over 15 years and have two children together, Jack and Lily. Paradis isn't well known over here in the states, but has enjoyed a solid career in her home country of France.
It will be interesting to see Depp on screen with his real life counterpart. The star who has been selected as one of the sexiest men alive many times now must have great chemistry with Paradis to continue to stay with her after this period of time. It is always nice to see a Hollywood heart throb that has an attention span longer than a goldfish.