Jessica Simpson Still Angry at John Mayer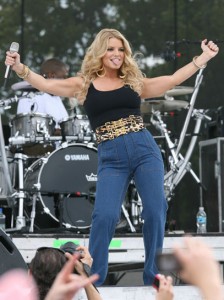 One thing about running an entertainment website, is the fact that sometimes you have to talk about some of the stupidest things. Today that comes in the form of Jessica Simpson being angry that John Mayer talking about how good she is in bed. (Read his Playboy interview here.) I know a gentleman never kisses and tells, but really who doesn't like to know they are awesome at something? Sure she might have had to trade her math skills for skills in the bed, but if you asked most Americans they'd make the same trade.
Here are some tidbits from the interview:
"Yeah, I couldn't read the article," she said of his infamous Playboy interview. "I heard about it and I saw some of the clips and stuff. I tried to read the article and I was so…I was so disappointed in him. It made me so sad and it was really discouraging, because that's not the John that I knew."
On her weight issues:
"People couldn't stop talking about my weight fluctuating," she told Oprah. "It would bother any woman, I would think. The fact that I was famous last year for gaining 10 pounds is ridiculous and it's really sad."
"I'm a size 4. I fluctuate from 4 to 6," Jessica said, admitting that those mom jeans actually fell on the lower end of her personal size spectrum.

"Those are size 4? And people are calling you fat in a size 4?!" Oprah asked.
"Oh my god, 8 is a goal," said Oprah.
I don't think Jessica Simpson was ever fat, but she did have an awful wardrobe choice with those jeans. I think it is kind of shallow that people are getting so worked up over it, but it is Simpson's job to handle her image and make sure she look good. It is the line of work she went into. It may sound misogynistic, although I think if Brad Pitt were to gain a noticeable amount of weight people would be talking about it too.
Oh well, let us know what you think in the comments below.