Jermaine Sellers Voted Off American Idol, Going Home From Season 9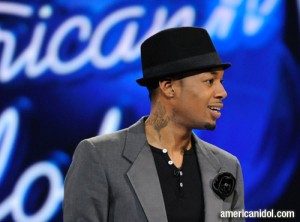 After over 27 million votes, America has spoken. Thursday night on "American idol," 27-year-old Jermaine Sellers was voted off. Earlier this week, Jermaine performed "What's Going On," by Marvin Gaye.
Get to know Jermaine Sellers from Joliet, Illinois:

Jermaine Purifoy is a jazz singer who auditioned two seasons ago. He sang at the White House and makes an amazing omelet. Jermaine is not your average church singer! This mama's boy can speak Gibberish too.
Click here to see who else was voted off tonight.
What do you think about Jermaine and the other contestants who were voted off? Who do you think will win the competition? Leave your comments below!