Jeff Goldblum and Biz Markie Perform "Just A Friend" on Jimmy Fallon (Video)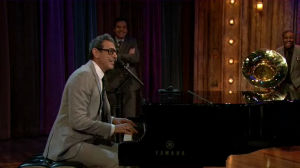 Thursday night on "Late Night With Jimmy Fallon," Jeff Goldblum was on the show to promote his new movie "Morning Glory." The film features Jeff alongside Rachel McAdams, Harrison Ford and Diane Keaton.
Read our review of "Morning Glory" Here.
While he was on the show, Jeff sat down at a grand piano and sang the song "Just a Friend" with Biz Markie. Pretty common, I know. Can anyone say William Shatner 2.0? Overall, pretty funny stuff.
From latenightwithjimmyfallon.com —
Jeff Goldblum + a grand piano + a chandelier + Biz Markie + The Roots + Jimmy + one of the most classic hip hop songs of all time = the most amazing rendition of "Just a Friend" EVER!