Kanye West Interview From 'Today Show' With Matt Lauer (Video)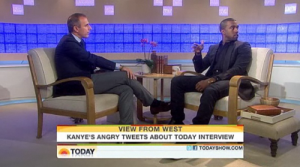 If you haven't seen Kanye West's interview with Matt Lauer from the 'Today Show' on Thursday, November 11 – look no further.
In the interview, which was taped on Tuesday, Lauer addresses many of Kanye's lowest moments. He goes back to the 2005 benefit concert for victims of Hurricane Katrina, where West mentioned during the live telethon that "George Bush doesn't care about black people." Bush says in his new memoirs that it was one of the lowest points of his two terms as president.
Later in the interview, Lauer asks West about the infamous comments made on-stage at the 2009 MTV Video Music Awards. During the middle of Taylor Swift's acceptance speech for Best Female Video, Kanye barged onto the stage and interrupted her saying, "Yo Taylor, I'm really happy for you, I'll let you finish, but Beyoncé has one of the best videos of all time. One of the best videos of all time!" But before Kayne could even address what happened, audio of the event started playing in the background- disrupting his train of thought and causing him to experience another meltdown. Here is the transcript of how it went down:
Kanye: "Yo, how am I supposed to talk if you're going to run this thing in the middle while I'm talking?"
Matt: "It's just… it's under. You won't be hearing it…"
Kanye: "But I'm hearing it while I'm trying to talk."
Matt: Ok. Can you take the sound out of the overheads please. Just pick up… you said it wasn't a race thing…"
Kanye: "Please don't let that happen again. It's like… ridiculous…"
Watch the entire interview between Matt Lauer and Kanye West Below (meltdown starts at 6 min 30 sec.):
[hdplay id=191 width=595 height=375]
Coincidentally, Kanye's new CD – "My Beautiful Dark Twisted Fantasy" – will be released in stores on November 22. Does Kanye have a screw loose, or is he a PR mastermind? Tell us your thoughts in the comments below!