Javier Bardem on the Set of James Bond's Newest "Skyfall"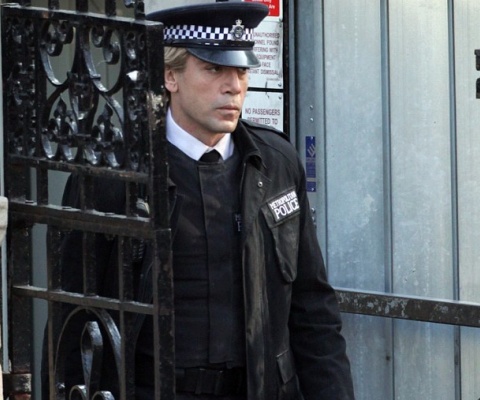 I am excited about the latest installment in the James Bond franchise for a number of reasons.
1.)  My dad is a huge James Bond fan, and while I may not be a die hard like him, I have a special place in my heart for the character and films.
2.)  "Casino Royale" is the best franchise reboot of any franchise in at least the last ten years.  And there have been a ton of reboots in recent years.  The film was damn near perfect for me.  And while "Quantum of Solace" left a little to be desired, it still featured Daniel Craig who is the best Bond since Sean Connery.
3.)  Sam Mendes is directing.  Thoguh this may not seem like the most conventional choice looking at his filmography of "Away We Go" and "Revolutionary Road", I always think of "Road to Perdition" to get excited for his interpretation of Bond.  The film blended character development, the human emotions that any father and son share, and suspenseful set pieces with ease.  I am sure the set pieces in the new Bond film will be on a much grander scale, but "Perdition" still proved he could do them.
4.)  The cast.  Daniel Craig.  Ralph Fiennes.  Javier Bardem.  Judi Dench.  Albert Finney.  Helen McCrory.  All huge names with the talent to back them up.
5.)  I know I mentioned his name above, but this deserves its own bullet point.  Javier Bardem is badass.  Have you seen "No Country for Old Men"?    I think he will be the perfect nemesis for Bond, James Bond.
Which James Bond mission is your favorite?  Who is your favorite actor to portray the spy?  Let us know in the comments below.