It's Kind of a Funny Story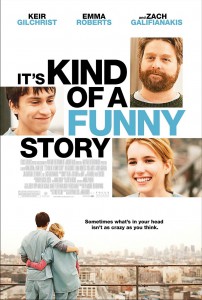 "It's Kind of a Funny Story" is a dark comedy, with subtle humor that keeps things light-hearted throughout. Although tackling subject matter as serious as being committed into a mental ward can seem intimidating, the film is fun and introduces us to likable characters who keep things entertaining without exploiting the situation.
Craig (Keir Gilchrist) is your average teenager, dealing with normal high school drama. He doesn't have much luck with the ladies, and furthermore he likes his best friend's girlfriend. He isn't great at school, and his parents (played by Jim Gaffigan and Lauren Graham) always wants him to be something that he isn't. A bit cliche in cinema maybe, but pretty normal for most teens. To deal with his problems, Craig has been seeing a psychiatrist who prescribed him medication to help with his anxiety. Craig decides to stop taking it one day, and unfortunately for him that is not a good thing. He develops suicidal tendencies, and starts having vivid dreams of jumping off a bridge. Before things go to far, he decides to check himself into a hospital. But things get a bit more serious than he expects, when he sees the type of people he will be living with. And on top of that, when he miraculously starts to realize things are alright, the doctors tell him there is a 5 day minimum observation period. Craig is forced to make new friends, as he waits it out and hopes to get better.
During his stay on the third floor facility, also known as 3 North, he is immediately introduced to Bobby (Zach Galifianakis). At the time of their first meeting, Bobby is dressed in scrubs and appears to be a doctor at the hospital. The next thing you know, he is giving a tour of the mental ward and introducing Craig to their fellow inhabitants. Bobby is quirky, but definitely knows the ropes around the place. The patients are close with the main orderly in the ward, Smitty (Jeremy Davies), who is very laid back and helpful to them. Different than most looks into a facility like this in movies, all of the doctors and orderlies are very friendly and helpful to the patients. They are often times portrayed as mean and uncaring, which is quite the opposite of what you would hope for. Refreshingly, in this film, their is really no bad guy trying to take advantage of the situation. Rather, the patients' only battles are with themselves, and trying to overcome whatever reason they are there. Craig befriends many others while he is there, but one patient in particular that sparks his interest is a teenage girl named Noelle (Emma Roberts). The two of them share much in common, and are able to help each other due to their similarities.
The humor is often times very subtle in the film, but it is consistent from beginning to end. The movie centered around a subject that is definitely very serious, but it does so in a way that is very respectful. Everyone has problems at one time or another, and the film aims more to deliver the message that everything is going to be alright. Gilchrist does a good job in the lead, as the troubled teen. His interaction with the other patients seems very natural, and his awkwardness in the situation seems spot on. As you might expect, Zach Galifianakis steels the show during most of his scenes. He is a great comedian, and is perfect in roles where his characters come out of left field. While most of the time he is doing something goofy, there are also times when his character is experiencing emotions that are quite serious. This role shows that Galifianakis can be quite versatile when given the chance, and he does a great job.
Overall, the film is a unique view into the lives of people who are not that different than many of the people that we know. Sure, some of the characters in the movie need more help than others. But many of them just need a little help – and most of all friends. With a great cast, and interesting story, "It's Kind of a Funny Story" is a film that you should more than just kind of want to watch.
"It's Kind of a Funny Story" is a B-