Is Conan Going To FOX?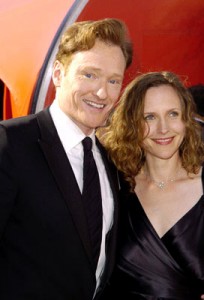 Speculation continues to ring about now that Conan leaving NBC seems pretty much a done deal. Will he walk away with $40 million in his pocket and call it a day? Or will he jump over to another network to start a new late night dynasty?
Well, if you believe the rumors it looks like he will be making the jump over to rival network FOX for a new late night program. FOX just today registered ConanOnFox.com, and it was tied to a twitter account of the same name. This could be one of a few things. 1. FOX jumped the gun a bit, and registered the name first before anybody else could, which is the most likely scenario. 2. Conan has told FOX his intent to sign with them, and they are readying the marketing blitz. 3. Someone trying to be tricky registered the domain under FOX's details.
It is amazing that this fiasco has gone on this long, and I'd love to just see it resolved. It makes for great entertainment for a while, but I feel it is about time to move on. Although right now it appears the hold up on getting it solved completely is not the money, but the rights to characters created on the show, and most importantly the amount of severance the staff on O'Brien's show will get.
What do you think Conan should do? Will you watch Conan on FOX? Which late night host is your favorite? Leno, Conan, Letterman, Fallon, Ferguson, or Kimmel? Let us know in the comments!