SNL's 'MacGruber' Film – Red Band Trailer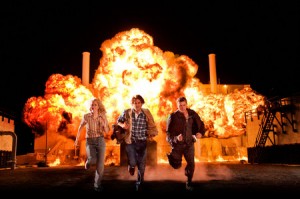 When I first heard there was going to be a MacGruber movie based off of the semi-popular Will Forte SNL skit, I was in shock. How were they going to take a one gag joke, and make it into an entire movie? Then I started to think that it had worked for Wayne's World, why wouldn't it work for other SNL skits? Sure, most of the other attempts have been awful, but for some reason I just have a feeling that this could be some stupid fun. I think that the current cast of SNL has a very talented group of performers (maybe not the best writers room), and hopefully this will continue to showcase some of the talent. Also of note Jorma Taccone from The Lonely Island is directing which is another reason for excitement over this film. Let us know what you think of the trailer below.
Note: It is a Red Band trailer so it NSFW.
Synopsis:
Only one American hero has earned the rank of Green Beret, Navy SEAL and Army Ranger. Just one operative has been awarded 16 purple hearts, 3 Congressional Medals of Honor and 7 presidential medals of bravery. And only one guy is man enough to still sport a mullet. In the 10 years since his fiancee was killed, special op MacGruber has sworn off a life of fighting crime with his bare hands. But when he learns that his country needs him to find a nuclear warhead that's been stolen by his sworn enemy, Dieter Von Cunth, MacGruber figures he's the only one tough enough for the job. Assembling an elite team of experts — Lt. Dixon Piper and Vicki St. Elmo — MacGruber will navigate an army of assassins to hunt down Cunth and bring him to justice. His methods may be unorthodox. His crime scenes may get messy. But if you want the world saved right, you call in MacGruber.
Cast: Will Forte, Ryan Phillippe, Kristen Wiig, Val Kilmer, Powers Boothe, Maya Rudolph
Director: Jorma Taccone
Genres: Parody/Spoof, Comedy
Release Date: April 16, 2010