Interview: UFC's Paige VanZant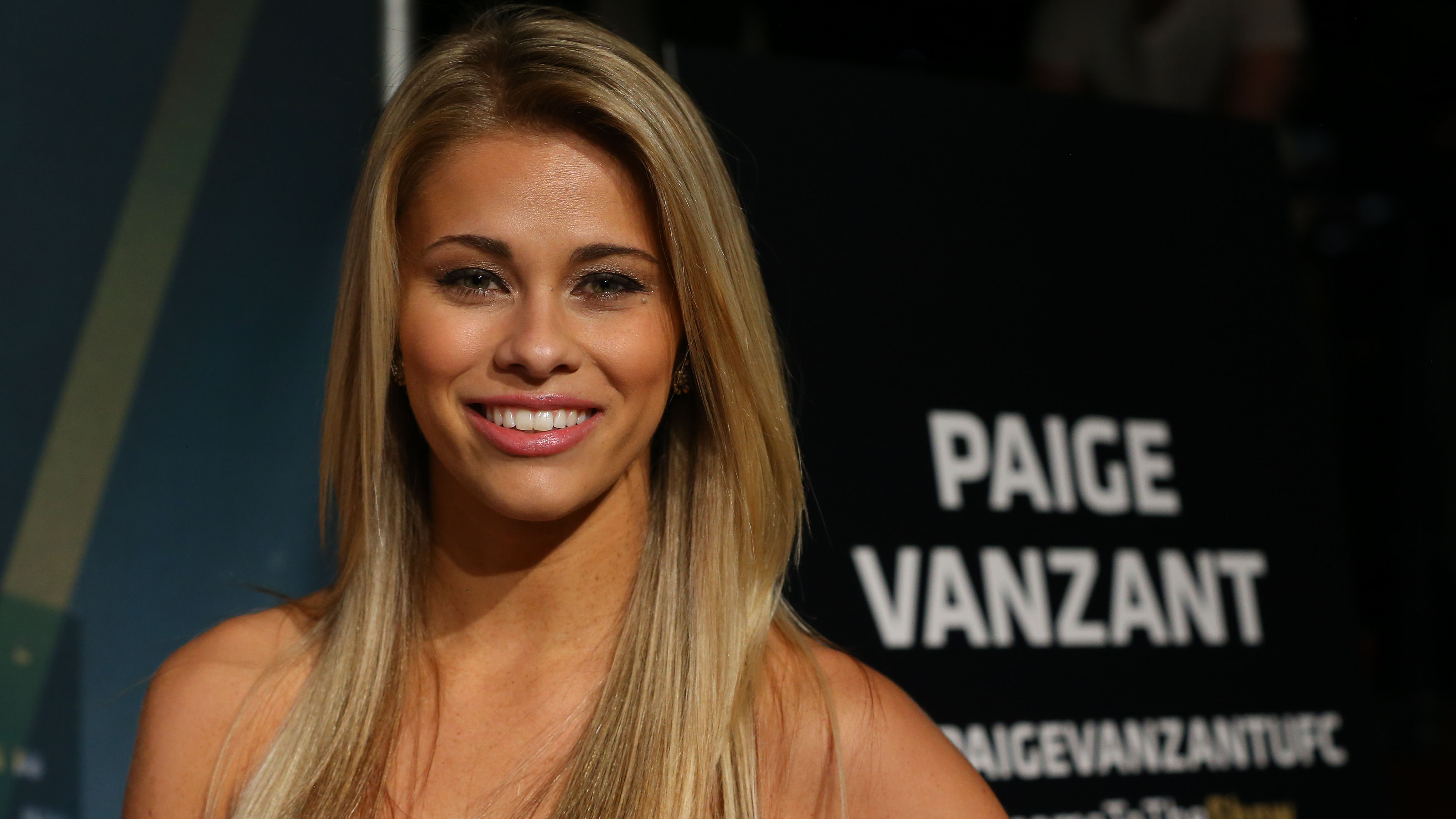 The UFC will be making its first stop in St. Louis on January 14, as UFC Fight Night goes live on Fox Sports 1 from the Scottrade Center. One of the featured bouts on the card involves one of the most popular UFC female fighters, Paige VanZant. Vanzant hasn't fought since December 2016, appearing on Dancing With the Stars and filming several commercials for the company. VanZant's looks and talent make her a big draw for the company. When VanZant steps in the Octagon against Jessica Rose-Clark on January 14, it will be her first bout at the newly organized flyweight division. ReviewStl's Jeremy Housewright had a chance to speak to VanZant about her upcoming fight, being a female in sport that was once dominated by men, and several other things.
 UFC will be making it's first stop in St. Louis on January 14. What would you tell St. Louisans who are not familiar with the sport? What can they expect when UFC comes to town in January?
You know, it's super exciting. UFC events are unlike any other experience. People watch it on TV, but it doesn't feel like watching it live. There's a whole other energy that's put on through the whole arena. So, hopefully people come. There's a whole lot of really exciting fighters on this card, so UFC puts on a good show and I'm excited I get to be here in St. Louis for the first fight here. It's definitely exciting.
I heard that you're in St. Louis now. Have you got to experience any of the food that St. Louis is known for?
I have not because I just got in super-late last night. So far the city has been amazing, the people have been amazing. I've heard you guys have some really, really good food, so I'm exited to come back here for fight week and hopefully experience a lot more.
What is your routine for a week leading up to a fight?
You know, it totally depends. The UFC will bring us out a few days in advance and we'll get to do some media stuff here in St. Louis and interact with the fans. Then we have Fight Night which is really awesome. The weigh-ins are really cool, so hopefully the fans come out to the weigh-ins as well. So, before that, it's really just training and getting ready for the fight, trying to get in the best shape possible and fine-tuning everything I think I'm going to use at Fight Night.
Can you talk about your decision to move up a weight class to 125?
I originally was a strawweight fighter, so I fought at 115 pounds. The 125 division just recently formed, so I was unable to fight at 125 because it wasn't a division yet. The cut for me to 115 is just awful. I'm a big advocate for body positivity in loving yourself and loving who you are. I was giving myself an eating disorder just trying to make it down to 115 pounds for this sport that I do. Ultimately, it was a health concern. I was causing my body a lot of health problems trying to make the cut to 115. I'm moving up and I'm going to be a much better athlete than I was at 115 pounds. I"m fighting out of a new camp. I'm with not with Team Alpha Male anymore, I'm with Gracie Barra in Portland, Oregon. I'm in a new weight class with all sorts of new things, so St. Louis gets to see a brand new Paige Vanzant. 
Was there a particular reason for the move from Alpha Male over to Gracie?
I'm born and raised in Oregon. So, that's the biggest thing. I've been taken away from my family for the last 9 years and after every single fight I'd have to travel back and fourth. I came down on a trial period and was training with Fabiano Scherner, my head coach and with Chael Sonnen. I was just shocked at the level of talent in Portland. I thought I would be living in Oregon and having my fight camps at Alpha Male, but Uriah (Faber) has just been an amazing part of my fight camp as well. He's been coming out and training with me and working with me, helping with the transition to a new gym. I'm so blessed to have amazing coaches. I've also been lucky to train at the Burke Camp, which is a really sacred muay thai gym. He's one of the top 5 muay thai trainers in the entire world. I'm excited to be fighting out of Portland, where I'm born and raised.
In a mostly male dominated sport, who or what would you say has been the biggest provider of support for you as a female in this sport?
For me, I don't really notice that I'm a female in the sport or that I'm different, or anything like that. I'm doing what I love and ultimately, no matter what you do, you have to be passionate about it. Even if you're different or stand out, you're going to enjoy what you do. My biggest support system is my family. Not having my family in my corner made me miss them more than I enjoyed fighting. Now that I live with my family and I get to train along side them and come home and see the people that I love, it's just a huge blessing. The support system from your family is a game changer. It helps with your mental strength more than anything.
What led to you deciding to pursue a career in MMA?
I actually didn't pursue a career in MMA. It was nothing that I sought after, it just kind of fell into my lap after varying circumstances in my life. I've gone through a lot of hardships. I started fighting and it started as a passion and it kind of quickly turned into a career. I'm so happy I get to do something and get paid to do something I'm so passionate about. It's been able to open up several doors outside of fighting for me that I'm also very passionate about. I've had a lot of success at a young age, but I absolutely love what I do and I plan to fight for a long time as well as do some things outside of fighting.
I've read some interviews where you talk about bullying. Do you look at yourself as a role model for young teenage girls?
I would hope so. I really do hope so. I've put a lot of pressure on myself to try to be a good influence. I'm in the eye of the public and I feel like I was put in a position to use it as a platform. For me fighting isn't my purpose, it's my platform. I was put here for a reason and I feel like it's up to me to share my story and hopefully inspire a lot of young girls who are struggling. I've fought through a lot of hardships and I have been outspoken on them. Now, I feel like it's my turn to give back because I've had a lot of people help me. Hopefully, a lot of people can see my story and gain confidence from it.
What do you know about your opponent you will be facing here in St. Louis, Jessica Rose-Clark? 
I know that she's from Australia and I also know that she fought Bec Rawlings. That's about it that I know so far, but I'm excited about this matchup. She's obviously a very high level competitor to take a fight on short notice with Bec and then go beat her. I think she's going to have a fun camp for this fight, so she's definitely going to be really tough and really strong. I'm very confident in myself as a fighter and I'm ready to show off my skillset, fighting out of a new camp with a new trainer. It's really exciting for me. 
Were there any fighters you looked up to when you came into the sport?
No. I really just kind of got into fighting because I loved it. I had no idea who fighters were. I had watched it before on TV but I didn't follow it at all. I just got into it because I loved it. But, now of course, I've been able to fight alongside some legends and I've been able to meet the top people in the sport. I get inspired by different fighters everyday, people who are changing the sport and continuing to do amazing things. I think the UFC is going to continue to evolve and change because there are some very challenging fighters coming up and some really talented legends as well.
What are your thoughts on Jessica Eye saying you are ducking her?
Oh, it's silly. That's all I have to say. 
I'm a Chael Sonnen fan myself. Is he as brash and as big of a talker as he is in front of the cameras?
No. Chael is one of the nicest people I've ever met. He's a total sweetheart. He goes out of his way to be helpful. I have only known him a short time, but when I got to Portland, he offered to help me out with absolutely anything I needed. He's the first person to go out of his way to help people. He's Mr. Personality though, so he's funny for sure. I'm super happy to get to train with him.
We've seen you on Dancing With The Stars. Was training for DWTS harder than MMA training?
Oh gosh. It was hard. It took me out of my element a little bit. I hadn't danced in a long time. It was so much fun though. The process was really, really fun. I'm happy I was able to be a part of DWTS. I actually hope if they have a redemption series, I hope I get to be on it. 
Thank you for your time. I really do appreciate it and I look forward to seeing you on January 14.
Awesome, thank you!
Paige VanZant will be one of the many UFC fighters on the card for UFC Fight Night at Scottrade Center on January 14. Tickets are available through ticketmaster.com.