Interview with Writer-Director-Lead Actor of 'Sleepwalk With Me' – Mike Birbiglia
It isn't every day you get to interview the star, director, and writer of a hit film, and it's even less common that it's all the same person. Comedian Mike Birbiglia's Sleepwalk With Me is seeing a rush of popularity across the country, as the little independent feature that could. It doesn't hurt when the director of the mega-blockbuster The Avengers, Joss Whedon, comes out to lend a hand with promotion. (Watch his boycott video.) The film is picking up critical and audience accolades across the country, and I was lucky enough to sit with him a few weeks back on his trip to St. Louis where he told us about his love for St. Louis and it's pizza.
---
Birbiglia on St. Louis: 
"I've played St. Louis a lot. I started coming here, probably around 2002. I've been coming here for at least ten years. I played the Funny Bone 4 or 5 times, at SLU, and I think this is the third time I'm playing The Pageant."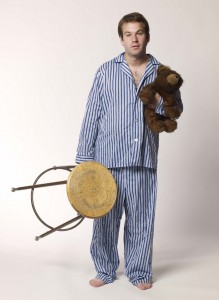 On the difference between playing a smaller club versus a place like The Pageant:
"The Pageant has a shockingly good acoustics and sightlines.  Whenever people ask me what my favorite venues are in the country, The Pageant is in the top 5. Most musicians will tell you that. My friend Jack Antonoff , who is in the band fun., talks venues with me all the time, and The Pageant comes up all the time. It's second to none.  The photography backstage is unreal.  The owner (Joe Edwards) has pictures of himself with everyone, Mick Jagger, Bob Dylan. The amount of photos he has with legendary rockers is unreal. "
On the difference between telling his story on different medium:
"Oddly, it's very different. The movie version was by far the most difficult since I had never directed a movie before.  Directing a feature film for the first time is like showing up for a middle school field trip, and getting up and saying, 'So, I'm going to drive the bus.' People are like, 'Mike, what do you mean? You don't know how to drive the bus.' And you're like, 'Yeah, but I've been watching the bus driver, and I feel like I have the hang of it. I've also been watching other bus rides, and I have my favorites and less favorites. I feel like I have a bus driving aesthetic that's going to carry us through this.' I'm going to be honest some people got on the bus; some people never get on the bus.  The important thing is we made it to the destination.
On winning the audience award at Sundance:
"I was utterly surprised, and completely unprepared. Which was probably for the best, I didn't have a list or a speech written out.  I just ended up babbling for about three minutes. Which is how all the best speeches are given by babbling, getting emotional, and then leaving. The thing about the win, was that it was an audience award, and was for innovative storytelling.  There were some really fantastic movies in that category, and for Ira and me it was very reassuring because the audience is who we want to make happy.  We want to connect with the audience."
On the film's distribution: 
"There was no bidding war for our film. No one from the distributors and studios were jumping on this saying, 'We're going to make a fortune on this movie.' That was surprising for Ira and me, because we've been doing this for years. You guys can see that when I do shows people show up, and I have about 40 cities I can do that with. Ira has about 300 he can do that with.  So, we were thinking they would want this, because people would want to see this movie. We're really proud of it, and people like it. It was IFC, a distributor I really like, which has put out a bunch of my favorite movies in the past few years, who has the ability to see these diamonds in the rough that no one really knows how to market.  We were lucky that they took an interest.
I don't know if you are following this Bring Sleepwalk Twitter campaign, but it is how we ended up here in St. Louis. We weren't supposed to be in St. Louis, but we requested fans to request Sleepwalk to show at your local theater.  IFC gave us a list of 200 theaters they liked to show their films at the most, and we compiled all of their Twitter handles, email address, and phone numbers, and told people to tell theaters they want Sleepwalk with Me. We went from 34 theaters to 101 theaters as of Thursday, and it's growing still. St. Louis is one of those, and it's thrilled."
On the change in media:
"I think there is a democratization in media right now. Where people are getting to decide what they want.  As an artist, you don't need a big studio or a big distributor anymore to get your work out there."
On social media:
"It's definitely making comedians work harder. Now you have to come up with like six things a day that are funny or else people start getting mad at you.  It's funny, someone tweeted at me after Greg and I ate at Pi, and I Twitpic'd the poster for the show.  It had neither of our photos on it, which I thought was a very poor selling point.  It just had a stool, a microphone, and a tomato with arms and eyes.  I tweeted, 'I hate it when they use old headshots.'  What's so crazy, this is how intimate social media has made everything; Pi tweeted at me that I should come over and eat.  Which I then had to respond back that I was just there thirty minutes ago. They know me on the computer, but when I actually show up, they have no idea who I am. Maybe if I had shown up in my tomato costume?"
On the autobiographical nature of the film: 
"Much of it is autobiographical. I feel there are certain things you have to do to condense, when you are working with a format as compact as film. So, there are a lot of convenient choices made for the sake of story. The things you wouldn't believe are true, are true. In other words, the extreme sleepwalking happened. However, little things like my parents don't live in Long Island, they live in Massachusetts.  My girlfriend wasn't a signing teacher, she was an actress.  There are just lots of little things that are convenient story wise. "
On "a-ha" moments in the film compared to real life:
"I didn't have a single moment.  It's another convenience of film, characters have that singular moment when they realize things.  I'm not sure I've ever realized anything in a moment.  It's always had to hit me over the head over and over to make me realize something.  There were a lot of comedians I looked up to over the years, that I was able to interact with, like Mitch Hedberg, Jim Gaffigan, Mark Maron, and Doug Stanhope.  I did have a little bit of a moment with Doug Stanhope.  We did a show in Montreal called "Confessing It", where you tell a story you are uncomfortable telling, and I told the jumping through the window story.  At that point, I hadn't told it much, I was still trepidatious of telling that story, because I thought people would think I was crazy. They would think I needed to be quarantined or locked up. I told that story on stage, and Doug, who is extremely autobiographical and raw, was amazed that I would tell that as standup.  He convinced me that I had to tell it, that I had no choice, that it was one of the best stories I could tell. That was probably the closest thing I've had to a moment."
On the subject of the great cast:
"I owe a lot of credit to Jennifer Euston who cast the show Girls and Veep on HBO.  She's nominated for two Emmy's for casting those shows.  She's having a wild year. She's on the cutting edge of casting. She cast Cristin Milioti, who was just up for a Tony for Once on Broadway, like six months later.  The casting is uncanny; it's a solid mix of my comedy friends and Jennifer Euston's taste in actors. The mix of Jennifer Euston, our cinematographer, our editor, Ira Glass, my co-director Seth, Geoffrey Richman, and our cast made for such an extraordinary collaboration.  There are about 15 to 20 people who worked on the movie, that if they hadn't worked on it, it wouldn't be what it is.  Movies are so fragile, if you take away any part it isn't the championship Bulls."
On another movie:
"Well, the show I've been touring all over the world with is a show called, My Girlfriend's Boyfriend. It's about how I decided to get married, even though I don't believe in the idea of marriage as a principle. Right now, I'm adapting that, and I've written a first draft. I'm hoping to shoot it in 2013. I think it's looking pretty good so far.  When I wrapped this movie, I decided right away that it was the hardest thing I've ever done, but I had to do it again."
---
Go see Sleepwalk With Me at the Tivoli in the Delmar Loop. The film opens Friday, September 14th.