Interview with "Trauma" star Anastasia Griffith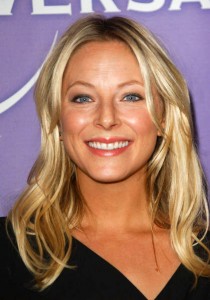 I recently had the pleasure of talking with Anastasia Griffith, best known for her role on "Damages" and currently on the popular NBC show "Trauma." Anastasia plays Nancy Carnahan, one of the main first response paramedics on the show – which will be returning to NBC on March 8.
Kevin: Anastasia, I read that you studied art the University of Bristol, as later attended the London Academy of Music and Dramatic Art. When did you first realize that you wanted to pursue acting, and do you remember any specific moment or influence that contributed to you decision
Anastasia: For as long as I can remember I wanted to be an actress, honestly, but I never thought I would be ABLE to do it. I thought it was a pipe dream so I just decided to get real and concentrat on behind the scenes instead. The Art History thing was really an excuse to go to university for three years, which was an experience I was adamant to have. I did pursue a career path in film/tv production at that time too tho, in the holidays, and worked for the BBC, among other companies, for a year or so after I left Bristol. It wasn't until I was working as a PA on the BBC show Hearts and Bones that I was shaken into an awareness that acting was the part of the production experience I was really passionate about. I gave myself one year to get into a drama school in london, figuring if it didn't work I didn't have what it takes. Thankfully, the rest is history. As far as influences, really only my Mum and my brother (who was already working professionally) and their blind support. It was them who believed that I would have what it takes not me!
K: What was life like in London, growing up as an aspiring actress?
A: Well my Mum was trained as an actress, had a lot of actor friends and certainly inspired us with a passion for the stage and the written word. My brother Jamie, as I said, is also an actor and I think that undoubtedly Mum's enthusiasm fed us, and our enthusiasm fed each other. I really wasn't an actor-y kid tho! There was no stage school or professional work or anything impressive like that! I just loved anything to do with the drama! Mum would take us to theatre a lot so we were exposed to it from an early age which was just fuel to the fire I think and London is a great city to live in if you are passionate about theatre and acting, you know? We were very fortunate having all of that theatre history at our fingertip, so it didn't feel totally inconceivable that we too could one day be a part of it. I feel very lucky that I grew up in London, it's a great city to be a kid in.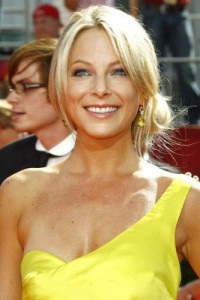 K: What made you want to move to the States?
A: Yes, I loved growing UP in london but I needed to move out, get some more freedom and space to move on! I am half american (my dad is from Detroit), I had the US passport sitting in my bedside table and things were quiet as far as the film/tv industry in London at that time, so I just thought I would take the gamble and go. I had always wanted to live in New York, I come from a big family and think i needed to stand on my own two feet for a while and it just seemed like a really fun journey to go on. Honestly it was less for work than for life! I figured I could make more money waiting tables in New York than I could in London and wanted to a sense of freedom and adventure. I landed 'Damages' three weeks after landing in NYC, so the adventure was up and running pretty quickly! I think that was the best decision of my life!
K: You were in the 2004 re-imagining of Alfie, where Jude Law took on the role made famous by Michael Cane. What was it like working on the film, and had you seen the original before taking on the role? Did you have a lot of interaction with Jude?
A: That was my second job out of Drama School and it wasn't a substantial role. I am not sure I even so much as opened my mouth! To speak, at least! Honestly that was a weird and eye opening experience. It was my first exposure to a big hollywood environment, albeit shooting in London, and the whole thing was a little insensitive and frightening! All I had to really do was kiss a girl seductively in front of Jude in a couple of scenes but it became a little humiliating when the lesbian producer berated us for not doing it properly! Jude was divine and incredibly supportive, I think seeing how petrified I was, but I didn't have much interaction with him to be honest. He was incredibly busy on that job, working in every scene pretty much and this was a blink and you miss me part, but I will always be very appreciative of his sensitivity that day as I was very green and very intimidated!
K: You are well known for your role as Katie Connor on FX's "Damages." How did that role become a reality? What has your favorite part of working on the show been?
A: I had arrived in New York three weeks prior to the audition, and my agent Scott Metzger called me one morning for a last minute audition. I had about two hours to get the scenes, learn them, get myself ready, get into my american accent headspace (which at that point was not at all natural to me) and get uptown to this audition. So what do I do? I get my ass straight down to the hair salon for a blow out! As Glen Close said in one of our first cast gatherings 'it's all about the hair'! If that is right you can trust in the rest! I felt very confident in that role from the very beginning. Something just clicked with me and Katie, I don't know what or how, but I could just see her in my mindseye, I knew who she was from the get go. That isn't to say that the audition was a walk in the park, it wasn't, my accent was terrible, but it got me noticed by the producers/writers enough to call me in the next day. I got a call from my agent saying they loved me but they are concerned about the accent, so I did nothing but speak and think american for the next 24 hours, went into their office speaking in my best east coast, blagging that I had, in fact, grown up in the states and only been to school in london and was more than capable of slipping straight back into it. It was an embarrassing moment when my cover was blown months later and they realised my impromptu back story was utter B-S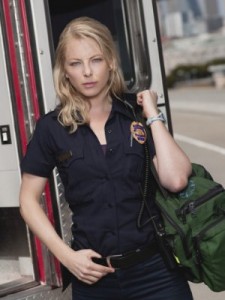 K: Currently, you star as Nancy Carnahan in "Trauma," on NBC. Was there a big difference in moving to a show on a major local network like NBC?
A: Yes, I think there was/is a big difference between cable and major networks but for me it was more about moving from very much a 'supporting role' to a leading one. I am not sure where the difference is felt most, but certainly being involved with in depth creative conversations about the moulding and characterization of a show is very new to me, the pressure to be on your game all day everyday for nine months is new to me, and the sort of team leader aspect of being one of a tight knit ensemble cast is new to me…. This job has really been the biggest learning experience, probably of my life, certainly of my career.
K: What is the most fun part of being in a show like "Trauma?"
A: Reading the scripts from week to week.. the what happens next phenomenon! I get really excited to see where Nancy is headed and what I am going to get to play with. Nancy is a great role, a great character with a lot of bite and I love bringing that to life. For me the best scenes are undoubtedly the real character scenes, when we really get to dive into, what I call, an eye ball to eye ball investigation of who these people are and how they deal with things. I had a couple of awesome scenes recently with Cliff Curtis where we get to just play real people in real situations and bring those very human and universal fears and insecurities to life. Those scenes really get me going.
K: Back in November, NBC announced that they were going to cancel "Trauma," much to the disappointment of many fans. Luckily, they had a change of heart. What do you think caused the decision, and changed their minds?
A: Firstly, we were never canceled! They announced that they were committed to airing the 13 episodes we were currently shooting. NBC have been keeping their options open the entire time as far as we were concerned, so we knew if we just got our heads down, worked our asses off and made the show that we wanted to see, we would get their attention again, and I think that's what happened. The show got better and better as the first half of the season aired, we found our feet, we had less money for explosions and big stunts and more time to throw ourselves into the characters instead. It worked! The show is really compelling and invested now, it has found its voice and its own personality and I think NBC cannot help but notice that. Obviously the whole Jay Leno extravaganza has effected their scheduling decisions for the post winter Olympics season as they have slots to fill, but it would be patronizing to say that is the only reason we are still standing. The second half of the season will really put us on the map I think and I am excited to see the hoo-ha that goes on when we are picked up for a season 2! Watch this space!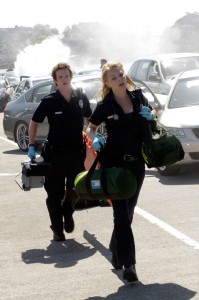 K: Is there anything new and exciting that you can tell us about the show?
A: I think I have already touched on that, because for me the more character based nature of the second half of the season IS what is new and exciting! I have loved watching everyone dive in deep and pull out some awesome, truthful, funny, moving performances that take you right to the heart of who these people are. And they are GREAT characters, especially now they are truly 3D! But yeah, we have plenty of twists, turns and discoveries to come. And that is not even mentioning Rabbit and Nancy's will they won't they scenario! Hmmmmmm…..
K: Now for some 'off the cuff' questions. Are you a Leno or Conan fan? What do you think of that whole mess?
A: I have met Leno and he was an incredibly nice guy and they are both very funny, talented men but in this whole scenario, I think I back Conan. That had to be HARD!
K: Are you a bigger fan of movies, or television? What are some of your favorites of both?
A: Ahh! Both. Absolutely. There is nothing better than getting into a new tv series and knowing that you have company for the next 13-24 hours of free time! There is something very comforting about that. I do also love the art form of movie making and am very passionate about it. I think as an actor they are really different experiences requiring very different disciplines from you. I have done a lot of TV recently and have loved the trust in my own decisions it has given me. You don't have time to make plans or over think your character ark in TV, at all, so you have to have faith in your choices and ability and be playful and open… these are very good acting lessons. Movies demand some real draughtmanship! You have to be very deliberate in what you are putting across, how you are using the scene and where each moment is in your character ark. You have the luxury of TIME and foresight to do this. I would love to take on the challenge of a movie again soon to further investigate these differences.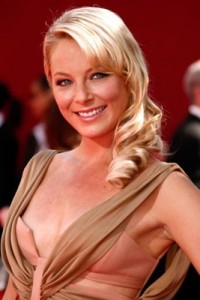 My favourites? That's hard… I loved Friends back in the day, Sex and the City, The Tudors, Jeeves and Wooster (an old british tv show)… they are all good keep me company shows. I have recently got into Mad Men, The Wire and a british show called Mistresses. I do think though that Damages is one of the best shows I have ever seen! I can say that now because I am not in it and am watching entirely as an audience member! It blows me away! Movies? Four Weddings and a Funeral and Withnail and I are british classics, Dr Zivago, The Godfather and Gandhi are other favourites… I love old movies. I just re-watched Little Women with Elizabeth Taylor and June Allyson, that was amazing. I think my favorite movie in the past ten years though is The Road. Mind blowing.
K: If you could by any Hero (from NBC's popular show), who would you be?
A: This is terrible, but I have to admit I have never seen it! That's awful isn't it? Honestly, I don't actually have a tv anymore, I just watch DVDs so that is why, but it's not really a decent excuse is it? Sorry!
K: What is next for you? Are you looking to continue with more roles in film, or do you feel that television is where you want to be right now? How about doing any theatre?
A: I was about to say 'theatre, I hope'! I don't know what is next right now as I am still up in San Francisco shooting Trauma, and will be here til after Easter. By then we will have some idea as to a Season Two, so will know more about how much time I have on my hands this year. I would LOVE it to be theatre though. That would be the dream. And preferably in LA so I can be at home with my man for a while!
---
"Trauma" will be returning on March 8, Monday nights at 9pm on NBC. Make sure to tune in, and watch for Anastasia!