Interview: Lavell Crawford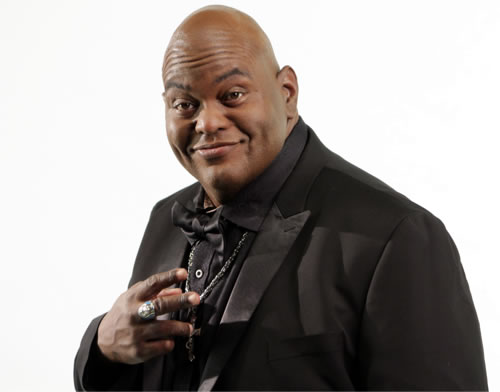 While some may know Lavell Crawford from his run on season five of Last Comic Standing, others may know him from his role as Huell Babineaux in Breaking Bad. Regardless, one thing is for sure, you won't forget Crawford after watching his standup.
The comedian is a Pattonville graduate and a St. Louis native. Crawford, 48, has been a standup comedian for 28 years.
Crawford talked about when he knew it was time to pursue comedy as a career.
"It was probably when my student loans ran out," Crawford said. "And, my mom wanted to kick me out of the house."
As a youngster and a young comic honing his craft, Crawford watched several of the best in the game.
"The greatest of all-time was Richard Pryor," he said.
Crawford also admitted to looking up to Redd Foxx, Bill Cosby, Rodney Dangerfield and Andrew Dice Clay.
"They just looked like they were having a blast on stage," Crawford said. "They made it look natural making you laugh. It was like they weren't working."
After working the club scene, as well as the Funny Bone in Westport in 1991, Crawford's first break came in 1993 with a half-hour special on BET. After the BET special, Crawford appeared Def Comedy Jam, but it wasn't until season five of NBC's Last Comic Standing that Crawford became a household name.
"It was nerve-wracking but it was also exciting," Crawford said. "It was nice being in the national spotlight. I was a household name for a while, so it was kind of exciting."
The Last Comic Standing runner-up in season five took a bit of heat back in April for some comments that caused some in the LGBT community to raise an eyebrow. Crawford said he wasn't trying to offend anyone personally, even revealing his father is gay.
"I try to talk with respect for any and everybody," he said. "I always give disclaimers that I don't know none of your friends and I don't know nothing about you. If you get offended you're just wearing your heart on your sleeve anyway."
Crawford also added that he thinks most of the criticism has disappeared.
"I think they are on to the next person," he said. "They should have realized I was basically speaking my opinion and come from a gay father. Everyone is going to think what they want. It don't matter what you are, who you are, or what you look like. I don't like being tolerated anyway. I like being celebrated. If you don't like me, just don't like me."
After auditioning for the part of Saul Goodman's bodyguard on Breaking Bad, Crawford got the part.
"I guess I fit what they wanted," he said. "I fit the part like a piece of a puzzle."
Crawford admitted he really didn't want to do the audition at first.
"I was tired," he said. "I had just come off tour and was exhausted. When they told me I got the part they asked me when I could start. I said now, if you'll give me a bed to get some sleep."
Crawford admitted he had only seen the pilot of Breaking Bad at the time of his audition.
"I thought if this show takes off, it's gonna be hot," Crawford said. "Being a comedian, I work nights, so I don't get to watch TV that much."
Crawford made his first appearance in the fourth season of the show.
"That was the great thing about it," he said. "I came in when the show was hot."
Crawford's shows at The Pageant on Saturday night will be filmed. The comedian already has one Netflix special to his credit.
In his first special on Netflix, Crawford jokes about many issues, from his weight, to sex, and even his family. One particularly memorable moment involves his mother giving him two chops to the throat in the grocery store.
"My momma ain't no joke," he said laughingly. "My momma was a disciplinarian when I was growing up, but her grandkids are spoiled brats. She don't do nothin' to them, but she would choke us out at the drop of a hat."
One topic you may not hear Crawford talk much about is politics.
"Politics bore me," he said. "I'd rather watch a magic show. At least they are honest and tell you they're trying to trick you."
Fans who haven't seen Crawford in a while, may not recognize him, as he's lost 120 pounds. Once 475 pounds, Crawford is looking much slimmer these days.
"That fat wasn't telling the jokes anyway," he said. "It wasn't doing anything but making me unhealthy."
Crawford hasn't performed in St. Louis in three years, so his two shows at The Pageant On Saturday night will be extra special for the comedian.
"I think it's very exciting," he said. "I guarantee it will be funny. It's (Saturday) gonna be a theme show. I'm gonna be doing everything about the holidays that we celebrate."
Tickets for Crawford's 7 p.m. and 10 p.m.  shows at The Pageant are still available by going to Ticketmaster.com.